AUSTRALIA'S FIRST HOME GROWN ALL ELECTRIC BUS
10-07-2015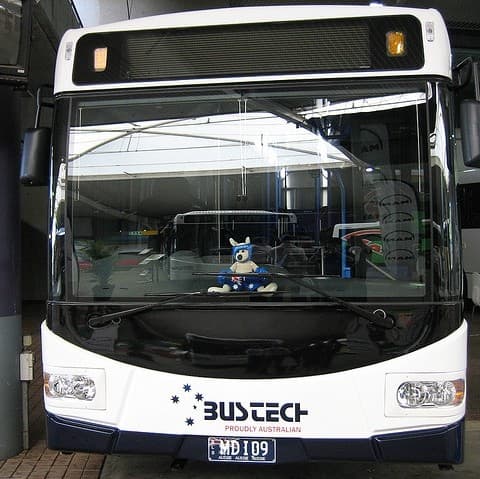 Australia's first designed, engineered and manufactured electric bus, developed through an AutoCRC international collaboration, has been unveiled at the Australasian Bus Expo in Melbourne.
The eBus was developed in a joint AutoCRC project with industry partner Bustech (Transit Australia Group), Malaysia Automotive Institute and researchers Swinburne University of Technology and CSIRO.
The development of the bus is an important step forward for Australian manufacturing, illustrating our R&D "smarts" and manufacturing capabilities.
AutoCRC Research Director Dr Gary White said: "AutoCRC is very focused on finding and developing international opportunities for Australian manufacturers and researchers. "We have a strong and mutually beneficial relationship with Malaysia through the Malaysia Automotive Institute, which had led to many fruitful collaborations, including the development of this exciting vehicle.
"This project is proof of viability not just of the new technology we have developed, but also demonstrates the capability of Australia generally and it illustrates just one way in which we can play a role in the global marketplace."
The bus also represents an important step forward in the quest to provide sustainable environmentally friendly transport options for Australia.
AutoCRC's CEO Ian Christensen, said: "As a country we need to be thinking about and acting on our national mobility to ensure our ongoing productivity and quality of life. Our future mobility will require new technology, better use of data, multi modal transport systems and, of course, low emissions. The eBus illustrates the strength of Australian capability in all these areas and we would love to see electric buses becoming commonplace in Australia."
Michael McGee, CEO of Transit Australia Group said: "Governments across the globe have already invested in electric vehicle charging infrastructure to support private and public transport. Our electric bus places Bustech at the forefront of a fast-growing and emerging industry.
Australia has an opportunity to be a world leader and cut environmental pollution at the same time."
Professor Ajay Kapoor, Dean of Engineering at Swinburne University of Technology said: "The eBus project is a collaboration success story where the Swinburne EV Group has paired the skills of automotive engineers from GM Holden, Ford and Futuris with those of established Research Fellows to reach out to industry partners and together develop the next generation of sustainable transport. We are excited to be leading the way in the development of electric vehicle technology with our collaborators AutoCRC, Bustech and Malaysia Automotive Institute and can see many more opportunities in this space."