AUSTRALIA'S BIGGEST ELECTRONICS SHOW RETURNS TO MELBOURNE
27-07-2015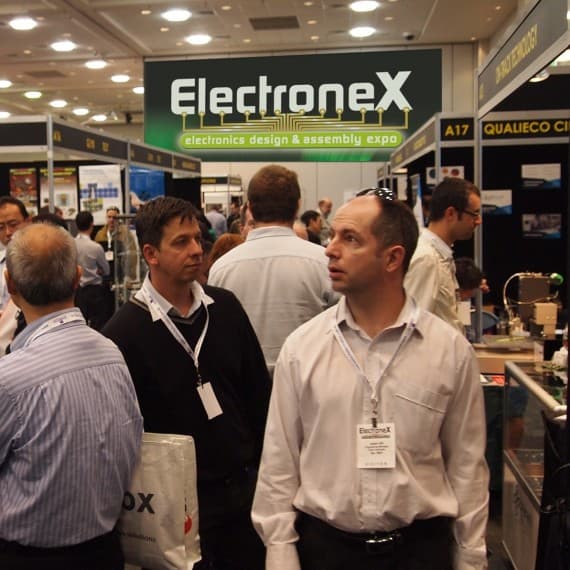 ElectroneX – The Electronics Design & Assembly Expo and Conference – returns to Melbourne on September 9-10 at Melbourne Park Function Centre.
ElectroneX, Australia's largest Electronics industry event, will showcase a record number of new companies and technology.
Alternating annually between Melbourne and Sydney this specialised event is the major focal point for the electronics industry in Australia. It is designed to help professionals across a vast array of industry sectors to stay in touch with the latest electronics technology developments for systems integration and production electronics.
This year's event will reflect the move towards niche and specialized manufacturing applications in the electronics sector and will also cater for the increasing demand from visitors for contract manufacturing solutions.
A number of suppliers will also be participating for the first time, reflecting the changing face of the electronics industry in Australia.
Design, electronic and electrical engineers, OEM, scientific, IT and communications professionals and service technicians are invited to attend the event where they will find the latest technology driving future product and system developments.
Electronex comprises a major trade show with over 90 suppliers showcasing and demonstrating the latest new product releases for industry, scientific and commercial applications.
The SMCBA – Electronics Design & Manufacture Conference is being held in conjunction with the exhibition. More than 1000 trade visitors are expected to attend the two-day Expo and Conference.
The Conference will feature leading international and local experts including Rick Hartley, the former Senior Principal Engineer at L-3 Communication, Avionics Systems in USA. 
Mr Hartley is the principal of RHartley Enterprises, through which he consults and teaches internationally. 
His focus is on correct design of PC boards to prevent and solve problems. He has consulted with major corporations in the US, Australia, Canada, Mexico, Brazil, China, Japan, England, France, Spain and Germany.
His presentation, Control of Noise, Signal Integrity & EMI in High Speed Circuits & Printed Circuit Boards, will explore how to design circuit boards to contain and control energy fields and how to mitigate and control the effects of high speed devices to successfully design low noise circuits
Denis C. Barbini, Ph.D. is the Associate Director of the Universal Instruments' Advanced Process Laboratory and his topic is Enabling Implementation of Advanced Technologies.
Universal Instruments Laboratory has developed a data based focus for providing tools and case studies to implement advanced packaging designs into your assemblies.
The session is aimed at Quality Engineers, Failure Analysis Engineers, Reliability Engineers, Design Engineers, Process Engineers and Project Managers providing an in depth look at identifying the impact of novel technologies in electronics manufacturing from fine pitch printing, to PoP, 01005, LGA/BGA and novel laminate materials. 
Australian based Dr Scott Watkins is Business Development Director and Technology Developer Kyung-In Synthetic Corporation (KISCO). Dr Watkins' topic is Flexible Electronics: Thin Film Solar Cells through Large Scale Printing.
Flexible electronics is an emerging area of technology that is based on using new materials, particularly organic-based compounds, as semi-conductors in devices such as displays and solar cells.
This enables these devices to be lightweight, low-cost and flexible and they can be manufactured using processes such as roll-to-roll printing. Dr Watkins was previously the Stream Leader for Thin Film Photovoltaics in CSIRO's Future Manufacturing Flagship and was based in the Division of Materials Science and Engineering.
Industry visitors can register to attend the Expo for free at: www.electronex.com.au. For further conference information visit www.smcba.asn.au.
Australasian Exhibitions & Events Pty Ltd
Ph: 03 9676 2133
Surface Mount & Circuit Board Association
Ph: 03 9571 2200