AUSTRALASIAN WASTE AND RECYCLING EXPO OPENS IN SYDNEY
09-10-2014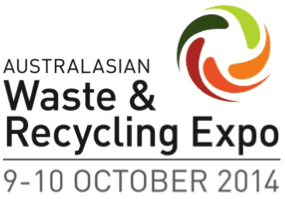 The Australasian Waste and Recycling Expo (AWRE), Australasia's largest exhibition of its kind, opens today in Sydney.
AWRE is a pivotal event for waste management and recycling professionals across business, operations and government sectors.
To be held at the Sydney Showgrounds, Sydney Olympic Park, Homebush, the two-day show also features a comprehensive seminar program with special presentations from industry leaders.
This year's expo show floor will be a hive of activity as the biggest brands in waste and recycling come together to showcase the latest innovations in technology and equipment. More than 1,400 industry professionals are expected to today this year's show.
Exhibitors include Bucher Municipal, Meinhardt and PakMor.
The two-day seminar program covers the latest in government policies and will feature case studies showcasing innovation and best practice as well as new products and services in the waste management and resource recovery industry.
Highlights include:
·       Steve Beaman, NSW EPA Director Waste and Resource Recovery will join Jon Collinge, Better Buildings Partnership Chair, and a panel of experts to discuss what large and small businesses are doing to reduce costs in waste disposal.
·       Steve Beaman will also lead a panel discussion on the role of digital tools and technology in the waste management and recycling industry with a focus on managing food waste.
·       David Hodge, Plastic Forests Director, will join industry leading innovators for a session on new and innovative solutions to deep-rooted resource management issues.
The entire seminar program can be viewed at www.awre.com.au/2014-programme/
AWRE will also feature an E-Waste Zone showcasing companies who are leading the way for electronic waste services. Electronic waste can come in many forms including computers, batteries and mobile phones, and is one of the fastest growing contributors to our waste stream. Here you will unearth the latest innovations that are changing the electronic waste landscape.
There is also an Innovation Zone with products, systems and projects that are driving the waste and recycling industry forward. The Innovation Zone recognises councils that demonstrate forward-thinking when it comes to waste and recycling issues within the local community. A range of ground-breaking new products will also be on display. 
To register for this free event, or to reserve your space at this year's seminar program, visit www.awre.com.au
Show Times
·       Thursday October 9, 9am – 4pm
·       Friday October 10, 9am – 4pm
Where
The Dome, Sydney Showground
1 Showground Rd, Sydney Olympic Park, Sydney