AUSTECH SHOW PRESSES ALL THE RIGHT BUTTONS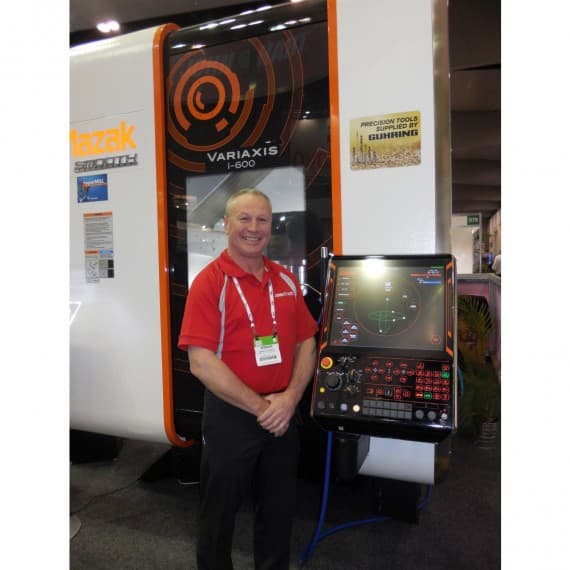 Austech, Australia's premier advanced manufacturing and machine tool exhibition, ended on a high in Melbourne last week, with exhibitors reporting large crowds and strong leads.
The four-day show, held this year at the Melbourne Convention and Exhibition Centre, is the only show in Australia specifically targeted at the metalworking, machine tool and ancillary market.
The show again featured the exclusive Manufacturers Pavilion, featuring presentations from a broad cross-section of industry leaders.
The show was co-located with National Manufacturing Week, Safety First, 3D Printing and the SMART Conference.
This year's show featured the latest technology in machine tools.
This included Mazak's new Mazatrol SmoothX CNC and DMG Mori's Celos.
The former is said to work four times faster than its fastest predecessors. A 19'' panel with a multi-touch home screen presents all critical data to operators within a single page view.
As John Hart's Mark Dobrich explains, the controller also reduces machining time by maintaining optimal acceleration/deceleration control for a combination of axes and smooth corner control reduces vibration and shortens part-machining cycles.
DMG Mori's Celos looks like a stylish digital device from the future. It provides a uniform user interface for all new high-tech machines from DMG Mori.
A unique 21.5" multi-touch screen displays all Celos Apps, which provide the user with integrated management, documentation and visualisation of order, process and machine data. Additionally, machine operation is simplified, standardised and automated, DMG Mori claims.
Simplifying automation is another topic at the show. John Hart is showcasing an automated machine tending cell. There are of course many benefits of automation such as reduced costs, lower health and safety risks and increased production quality.
However, as Mark Dobrich points out, many people are scared of complicated programming procedures.
That's why the company has developed its CellPro Modular Robotic Systems, which can be tailored to customers' needs and comes with the CellPro cell controller which is intuitive, allowing the user to quickly and easily create programs without any robot programming knowledge.
Walking through the Okuma stand, visitors experienced a similar concept from Belgium-based company RoboJob, which Okuma is the exclusive distributor for in Australia.
The mobile 20kg robot is clever enough to stop whenever an operator comes too close. This makes it a perfect mobile solution for workshops as it does not require any safety-fences – while being safe.
For Okuma General Manager Phil Hayes automation is crucial in order to remain competitive.
"You have to apply the costs to creative work and remove repetitive work," he emphasises.
The Okuma Multus U4000 was certainly a crowd puller as well. The multi-tasking machine features an automatic tool changer, a 240° B-axis range, generous Y-axis travel (up to a whopping 6000 mm between centres for the larger model) a subspindle and a lower turret for additional capabilities and increased throughput.
Talking about crowd pullers – race cars always do the job!
While there is no real Formula 1 car at the Alfex/Haas stand, the American racing spirit is still evident.
The US-based machine tool company established the Haas F1 Team in 2014, and on the machine tool side of things, business is going great in the United States with many companies bringing quality work back to the US.
In Australia times are not the brightest for machine tool distributors and haven't been for quite a while – but according to most exhibitors including George Buhagiar from Alfex CNC , the market is stable, but has currently no potential for expansion.
Jens Hardenacke, CEO DMG Asia/Cooperation Markets, agrees. The aerospace market is still performing strongly, which is reflected by high-tech CNC machining centres on show including the DMC 80 U duoBlock 5-axis machining centre.
"Our market share is stable and will not change much in future, but we are aiming for the 20% mark," Mr Hardenacke said. "I worry about the mining sector and automotive of course is in decline as well."
Austech covers the key areas of machine tool and sheet metal working including:
·       CNC machining centres: horizontal and vertical machining centres
·       Turning machines: CNC lathes, automatic lathes
·       Sheetmetal: forming, bending, punching, shearing equipment
·       Special purpose machines: grinding, broaching, boring, milling, waterjet cutters
·       Laser equipment: laser profiling, laser cutting, marking and engraving
·       Ancillary equipment: cutting fluids, finishing, coatings, robots, cad-cam software
·       Digital and additive manufacturing
·       Inspection, Measurement, Metrology
·       Quality Systems
·       Reverse Engineering
 
Australian Manufacturing Technology Institute Limited (AMTIL)