AUSTECH MANUFACTURERS PAVILION OPEN AGAIN FOR BUSINESS
21-04-2015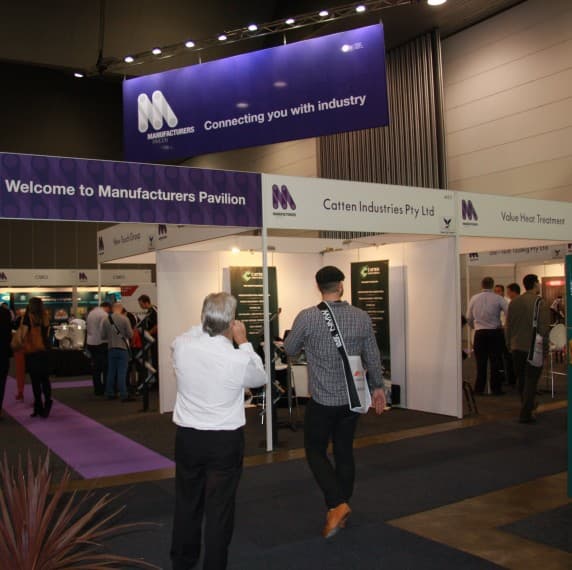 Austech organiser AMTIL (Australian Manufacturing Technology Institute Limited) is again bringing its Manufacturers Pavilion to the Melbourne Exhibition Centre.
The unique showcase runs from May 26-29 as part of Australia's premier advanced precision manufacturing and machine tool exhibition, highlighting the capabilities of Australia's precision engineering and advanced manufacturing industry.
The Pavilion provides Australian component manufacturers, precision engineering firms, toolmakers, advanced manufacturers, general engineering companies as well as OEMs the opportunity to exhibit their unique capabilities to an expected audience of more than 10,000 visitors.
 "The importance of our precision engineering and advanced manufacturers in this country having the opportunity to promote the capabilities and capacity they have to offer is critical in view of international competition," explains AMTIL's CEO and Exhibition Director Shane Infanti. "The Manufacturers Showcase provides the perfect forum for these companies to put themselves in front of Austech visitors, many of whom outsource and contract out their work."
There are still a limited number of stands available, but most spots have already been taken.
Exhibitors include Ultimate Laser, Barden Fabrications, Hardman, Fountainline IMS, Bennett Precision Tooling, Harrop Engineering, South East Melbourne Manufacturers Alliance (SEMMA) and several of their members as well as OEMs GP Graders and MTM Automotive Components who will have an Aussie-made Tomcar on display.
Including a four-day speaker program, networking café and exclusive functions, the Manufacturers Pavilion will help these companies to promote their capabilities and connect with organisations significant to their business, such as State and Commonwealth Government.
The Pavilion is particularly timely for companies in the struggling Australian automotive manufacturing sector, and provides the opportunity for them to leverage global connections, right here on their doorstep.
As a result, the speaker program will also cover this important topic, among many others.
It will include presentations by Linsey Siede, Director Automotive Supplier Excellence Australia and chief executive of the Federation of Automotive Products Manufacturers (FAPM) Richard Reilly on future opportunities for automotive suppliers and ways of transitioning out of automotive.
The FAPM supports all component manufacturers - who are employing about 33,000 people in the industry - and those looking for new markets and trying to diversify.
Other topics during the four-day speaker program include the University of Queensland and QMI Solutions' research project on incremental sheet forming and the economies of 3D printing sand cores; Accessing Opportunities on Major Projects: The SME Experience', by Don Matthews of the Industry Capability Network (ICN); Five essential competitive components for SMEs', by Steve Bryant, QMI Solutions and many more. Further information and the preliminary speaker program can be found at: amtil.com.au/Austech-Exhibition/Manufacturers-Pavilion