Austech exhibition offers top connections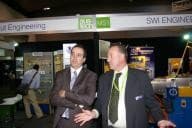 Former Victorian Industry and Trade Minister Martin Pakula (left) and AMTIL CEO Shane Infanti visiting the Manufacturers Showcase at Austech 2009 
Austech 2013, Australia's premier advanced precision manufacturing and machine tool exhibition, is inviting small to medium manufacturing businesses in Australia to take part in its new and extended Manufacturers Pavilion. 
The Manufacturers Pavilion gives Australian component manufacturers, precision engineering firms, toolmakers, advanced manufacturers and general engineering companies an opportunity to exhibit their unique capabilities to an expected audience of more than 10,000 visitors.
Next year's exhibition, to be held in Melbourne, from May 7-10, 2013, is supported by the Australian Manufacturing Technology Institute Limited (AMTIL).
One of AMTIL's supporters in this initiative is SEMMA, a Victoria-based industry group representing more than 200 leading manufacturers based in South East Melbourne. 
"The Australian Manufacturing Technology Institute AMTIL is working with industry bodies such as SEMMA to provide as many manufacturers as possible with the opportunity to network and tap into local and international supply chains," says AMTIL's CEO and Exhibition Director Shane Infanti. "The Manufacturers' Pavilion provides the perfect forum for these companies to put themselves in front of Austech visitors, many of whom outsource and contract out their work."
SEMMA CEO Paul Dowling agrees and adds that their members will greatly benefit from this opportunity to promote their capabilities and gain new business. 
"Networking amongst members will create mutual gain," he says. "Moreover, our members will have the opportunity to meet CEOs and decision makers from other manufacturing firms, manufacturing network representatives from other regions and countries, and users of manufactured goods. South East Melbourne is a dynamic manufacturing region, with global capability centred in the area. This is an outstanding opportunity for our members to demonstrate this capability and to highlight the many advantages that our members bring to client firms."
The Melbourne-based Austech exhibition comes at the right time, as Victorian manufacturing has emerged as the nation's strongest, with 10,000 full-time jobs created in the past year despite a string of high-profile job losses over the past six months, according to the latest ABS figures. 
According to Mr Dowling, manufacturing in Victoria has a great future due to the innovative attitude and move towards high technology manufacturing.
Mr Dowling says Victorian manufacturers have the flexibility to manufacture small volume and niche products in line with demand from the rising middle class within China and India.
"The key for the future is for government to establish a bi-partisan vision for manufacturing," he says. Government should work toward a culture for collaborative research/industry and develop an infrastructure to encourage and embrace innovation.
SEMMA and AMTIL agree that manufacturing in Australia is far from dead and has an important role to play.
However, it is important for Australia to prepare itself for the inevitable slowing down of the mining and energy sectors. 
"There must be greater assistance, particularly to SMEs, to help local manufacturers connect with global and national supply chains," says Mr Infanti.
"I don't think there is any question that the manufacturing industry is doing it tough at present," he says. "This provides further reason for us to look at new ways to promote our manufacturers. Developing the capability of our industry is critical to our future success. Austech is Australia's premier advanced and precision manufacturing exhibition and provides the perfect forum for manufacturers to network with suppliers and customers in a favourable environment."     
"Australian manufacturers, particularly SMEs, don't have a reputation for being strong when it comes to marketing and promoting themselves," Mr Infanti adds. "AMTIL has developed strong services for our members in the areas of exhibitions, publications and online marketing of capabilities. By utilising these mediums we will help manufacturers promote themselves, network and tap into local and international supply chains."
The Manufacturers Pavilion will host 40-50 stands for local companies to promote the capabilities and capacity they have to offer, which is critical in view of international competition.
Australian Manufacturing Technology Institute Limited (AMTIL)
Ph: 03 9800 3666