AUSTECH DEBUT FOR HIGH-PRECISION FIVE-AXIS MACHINING CENTRE
06-05-2017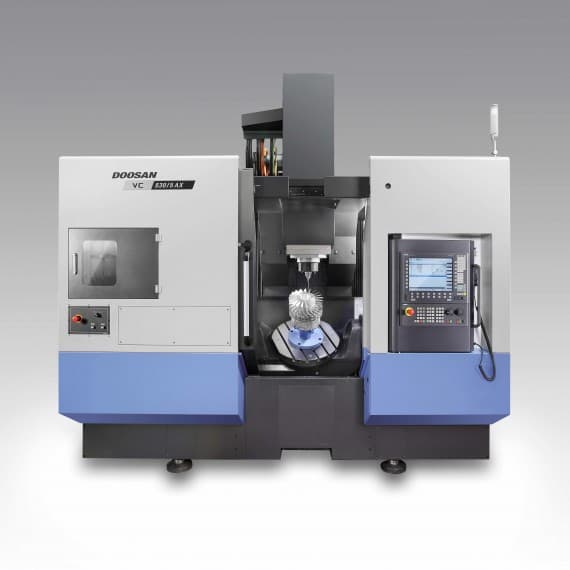 Star of the show for Hare & Forbes Machineryhouse at Austech 2017 will be the Doosan VC630/5AX five-axis machining centre, making its first exhibition appearance in Australia.
The VC630 has been designed from the ground up with a high-rigidity machine structure for high-precision five-axis machining. Offering a choice of Fanuc or Heidenhain controllers, the VC630 offers simultaneous control of all five axes enabling precision manufacturers to machine parts to completion in a single setup.
The built-in high-speed main spindle features a four-row precision ceramic bearing that minimises heat generation and enables the spindle to reach maximum speed in the minimum time to optimise productivity. With an option of 12,000 or 20,000rpm spindle speed the VC630 is capable of heavy-duty machining of materials such as titanium and Inconel in addition to high-speed cutting of aluminium and other nonferrous materials.
The machining centre can handle large workpieces up to 730mm diameter and 500mm in length, with a maximum load of 500kg. This also enables a variety of parts to be machined in a single setup.
The tool changer capacity can be specified between 40 and up to 121 positions as a matrix system, and the machine's rotary tilting table has 150-degree A-axis (tilting) capability and 360-degree C-axis (rotating) capability. VC630 machines can be also supplied with an integrated pallet system for further increased productivity.
Visitors to Stand 560 at Austech 2017 will be able to see the Doosan VC630/5AX five-axis machining system in action, together with a range of other machinery from the team at Hare & Forbes Machineryhouse.
Hare & Forbes Machineryhouse
02 9890 9111
www.machineryhouse.com.au