AUSTECH 2019 TO BREAK RECORDS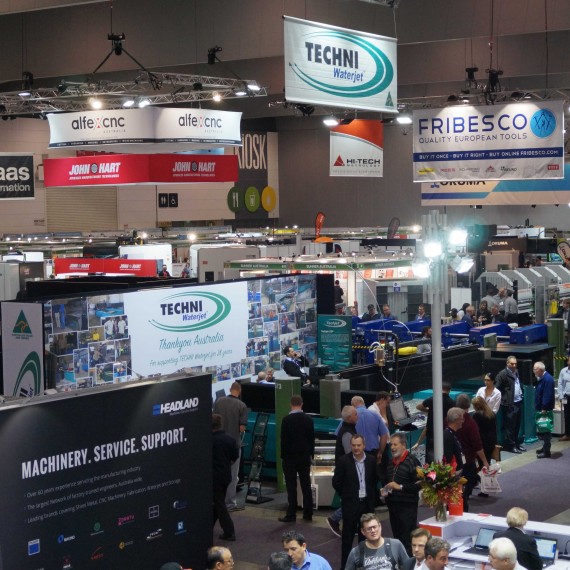 Austech 2019 appears to be on course to be a record-breaking show, with advance bookings from exhibitors far surpassing expectations, and high levels of interest from across the industry.
Scheduled to take place at Melbourne Convention and Exhibition Centre from 14th to 17th May 2019, Austech is Australia's premier advanced manufacturing and machine tool exhibition. Owned and organised by AMTIL, Austech 2019 will be colocated with National Manufacturing Week, with more than 10,000 industrial decision makers expected to visit the show.
Sales of floor space for next year's show are currently significantly ahead of levels recorded at this point during preparations for Austech 2017, which became one of the most successful shows in the event's history. To date, more than 4200m2 of space has already been sold, representing around 75% of the available exhibition area. And as the early bookings amount to just 78 exhibitors, it seems many manufacturing technology suppliers are planning on taking bigger stands at Austech 2019.
To accommodate this strong early interest, AMTIL recently took the decision to expand the show to accommodate the additional exhibitor numbers expected. This enlarged footprint sets the scene for a show featuring several major exhibits of heavyweight equipment among a diverse line-up of the latest, most advanced manufacturing technology.
"Bookings have been incredibly strong," says Kim Banks, AMTIL's Events Manager. "As well as those companies who have already finalised their bookings, we are also currently awaiting several large bookings that we believe are very close to being confirmed, so we're anticipating having allocated 85% or more of the floor space by mid December. At five months out from the start of the show, that would be an amazing outcome."
In addition to the exhibition itself, Austech will also feature an extensive speaker programme at two presentation theatres, run in partnership with NMW. The Industry 4.0 Theatre and the Connected Manufacturing Theatre will feature a range of expert speakers exploring across a number of different issues. AMTIL and NMW are currently inviting speakers to come forward who are interested in delivering a presentation, with submissions due to close on the 30th November 2018.
Alongside Austech's tradition focus on machine tools and ancillary equipment, Austech 2019 will feature a number of dedicated technology areas. The Additive Manufacturing Pavilion will once again showcase the latest advances in 3D printing, and the Digitalisation Pavilion – returning after a highly successful debut in 2017 – will explore developments at the cutting edge of manufacturing technology. The latest addition is the Air Technology Pavilion, a new area displaying the latest state-of-the-art compressors and air technology.
Interest has also been strong in the Manufacturers Pavilion, an area devoted to highlighting some the most innovative manufacturing companies working in Australia. First launched at Austech 2013, the Manufacturers Pavilion has enjoyed consistent growth in the number of companies exhibiting, and next year appears set to see that trend continuing.
"We're certainly gearing up for a big show in May," adds Banks. "We're expecting to see many more bookings in the coming weeks, making Austech 2019 an unmissable event for anyone with an interest in manufacturing in Australia. I guess for companies holding off on deciding whether to participate, with space selling so fast, the question is whether they can afford not to be there in May."
AMTIL
03 9800 3666
www.amtil.com.au