Austech 2013 and NMW a big success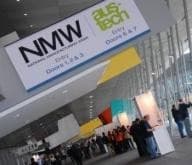 Austech 2013 and National Manufacturing Week (NMW), which ended in Melbourne last week, was highly successful on all levels – with strong crowds and positive feedback from exhibitors.
Australia's leading trade show for precision manufacturing and machine tools together with National Manufacturing Week (NMW) collectively attracted 11,223 visitors over four days.
Austech 2013 exhibition director Shane Infanti says the numbers were strong, matching organisers' expectations.
"Whilst AMTIL (Australian Manufacturing Institute Limited) as the organisers and the industry body realise that the climate is difficult, we hope that there was enough interest stimulated through the show to create activity in the market place over the coming months," said Mr Infanti.
The exhibitors addressed every conceivable aspect of how to make things smarter, assisting local manufacturers to deploy appropriate technology and connect to providers of systems and processes in an effort to optimise efficiency, quality and costs and thus to achieve that all-important competitive edge. 
One of the most noticeable buzzwords during the show was certainly additive manufacturing and 3D printing, and visitors to the dedicated Digital & Additive Pavilion kept exhibitors busy. 
There were several activities and new initiatives that kept the floor buzzing throughout the four-day event. 
Among them was the Manufacturers Pavilion, which featured presentations from industry experts, discussing the possibilities of improving manufacturers' competitiveness through research, innovation and technology.
"The Manufacturers Pavilion is a welcome addition to Austech and enables manufacturers to showcase their capabilities not only to the general audience but also targeted VIPs within key supply chains," Mr Infanti said. "The initial feedback from the exhibitors in that area is very positive, and a stepping stone for us to continue working with them to generate business."
Australian Manufacturing Technology Institute Limited (AMTIL)
Ph: 03 9800 3666