AUSSIE WORKERS ARE A CHEERFUL BUNCH
23-02-2017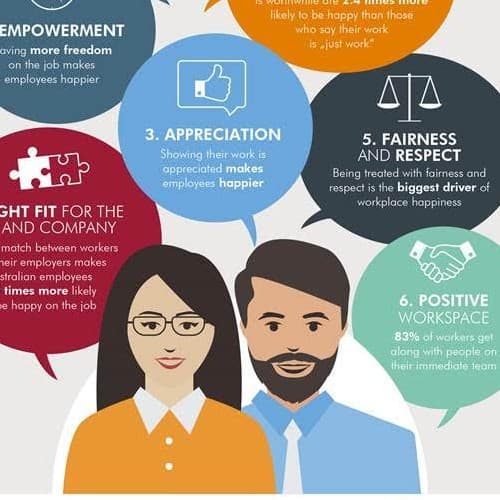 All things considered the Australian workforce is pretty happy, particularly those of us working in small businesses.
Recruitment specialist Robert Half asked a wide sample of Australian workers to rate their workplace happiness on a scale of 0-100.
Averaging at 68, Australia beats out the UK, Belgium, and France, comes in even with Canada, and is just below the United States (who rate their happiness at 72/100).
David Jones, Senior Managing Director at Robert Half Asia Pacific Jones said: "Happy employees tend to be more engaged, loyal, creative and productive than their less-satisfied counterparts. They also take fewer sick days, tend to be more creative, proactive and express a greater sense of loyalty to the company. Creating a positive culture that engages employees and boosts satisfaction levels enables companies to remain competitive while having a direct impact on business performance."
Those of us in management or creative roles are more likely to be happy, as are those of us with an older, more established career. The key driver of happiness, however, is being treated with fairness and respect by your peers and superiors.
Workers who have pride in their company and feel a sense of accomplishment with their work are far more likely to be happy than those who are simply paid well.
"We know that interest in a job peaks among Australian employees who are in their second year of tenure. Beyond this timeframe, employees need to be rewarded with frequent feedback to maintain their spark for the job. Checking in regularly with employees to discuss the evolution of their objectives, their career development, and providing ongoing feedback will make them feel more appreciated, which in turn, enhances employee happiness," said David Jones.

Not only are happy workers healthier with lower stress levels, 62% say they have good friends at work. Companies with strong internal team relationships are 2.7 times more likely to have happier workers compared to those who do not get on with their colleagues.

Nic Marks, CEO and founder of Happiness Works, said: "Good relationships are the glue of an organisation. For managers, it's all about encouraging relationships for reasons beyond narrow business needs. When employees have friends at work, it has a broad impact on happiness."

"Happy employees also create a positive impression of their company externally, as it is evident they put more effort into their work, and in turn deliver a better client service," David Jones concluded.