AUSSIE TYRES BORN AGAIN AS BIOFUEL
01-12-2016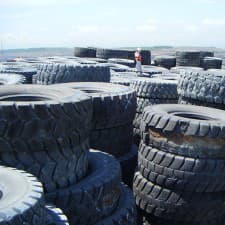 An award-winning Australian company has produced biofuel from old rubber tyres, and is gearing up for an annual production of at least 8 million litres.
Green Distillation Technologies (GDT) is able to convert the old tyres, which would otherwise be a significant environmental hazard, into diesel-compatible biofuel that produces 30% less emissions than conventional fuels.
The technique, according to Director Trevor Bayley, is known as 'destructive distillation'.
"The process is emission-free and some of the recycled oil is used as the heat source for the production process," he said.
"It begins by loading end-of-life tyres into a process chamber, which is evacuated of air and sealed."
"Heat is applied, which acts as catalyst for a chemical reaction, which sees the tyre destructed into different compounds, one of which is condensed into manufactured oil."
The properties of the oil have been tested at the Queensland University of Technology, and performed according to GDT's claims.
"We tested the oil which GDT produces from both recycled natural and synthetic rubber tyres in 10% and 20% diesel blends," said Farhad Hossain, biofuel researcher.
The experiments found that neither blend impacted the performance of the engine, and produced 30% less nitrogen oxide, a primary component in petrochemical pollution.
All other byproducts of tyres (such as carbon and steel) are also processed and resold, ensuring 100% recycling of every tyre.
As there are 20 million tyres disposed of in Australia every year, recycling even 5% of those tyres would make a significant dent in our environmental impact.