AUSSIE TRADESMEN WEAR PINK FOR BREAST CANCER
07-10-2015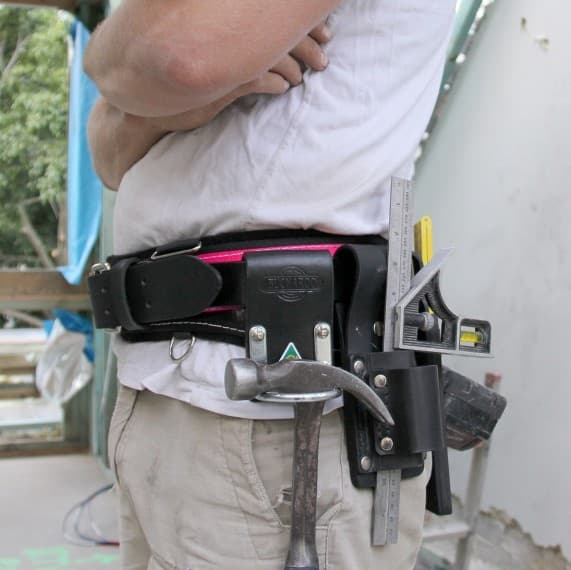 For a limited time – and to support a good cause – tradies, electricians, famers, and workers in all industries can buy a pink version of Buckaroo's internationally renowned tool belt, the Tradesman.
Crafted using the high performance leathers and materials, the Tradesman is the belt that put Buckaroo on the map, thanks to its built in back support and ability for the wearer to kit up their own belt.
Buckaroo is partnering with the National Breast Cancer Foundation in order to raise valuable funds to help find a cure for breast cancer by 2030. The Australian manufacturer is helping the cause with this new run of belts, donating a portion of the sale towards valuable research.
"We are really proud to be a partner of the NBCF," said Tanya van der Water, MD of Buckaroo Leatherworks. "Breast cancer is still a major issue for not only for the Australian women who suffer, but for the men and families of those diagnosed. This is just one way that tradespeople around the country can show their support and add some colour to the work site."
The partnership is a part of the NBCF's Real Men Wear Pink campaign, which is challenging men around the country to wear pink and fundraise in recognition of the women in their lives.
The Tradesman itself is an incredibly comfortable and durable bit of kit.
Crafted from 6mm leather, this high quality belt is as tough as nails.
The new pink edition features a copolymer webbing upper belt strapping, which has superseded leather in many industries due to its nontoxic nature. Also, it is resistant to stretches, cracks, tears and hardening when exposed to moisture.
The pink Tradesman Tool belt from Buckaroo is available from all Buckaroo resellers upon request.