AUSSIE TOWERLESS CELL COVERAGE TESTED IN THE FIELD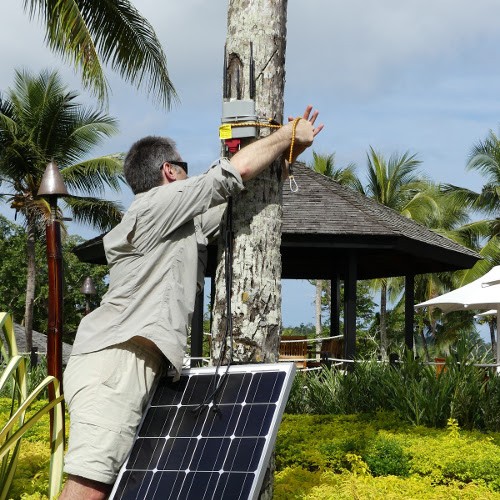 Mobile phone software that allows communication without relying on network coverage is undergoing its first "real world" trial in Vanuatu.
Software inventor Dr Paul Gardner-Stephen arrived in the Pacific nation from his home in South Australia this afternoon following a volcanic eruption on the island of Ambae.
The Serval Software doesn't require phone tower infrastructure, instead it uses radio signals to send messages between connected phones. Researchers at Flinders University in South Australia have developed the highly secure mobile system to assist emergency service units worldwide.
It's hoped the new phone software will help people send and receive vital information about Vanuatu's Manaro Volcano eruption, which has left Ambae Island almost completely disconnected from the rest of the region.
A full evacuation of Ambae Island has been ordered, as the volcano continues to spurt plumes of smoke, ash and volcanic rock.
"We've made something that is fundamentally independent of the outside world. It's designed for post-disaster use but also for remote areas," Dr Gardner-Stephen said.
"With communities moving around in Vanuatu ahead of a potential disaster, this is exactly the kind of use-case that our project is designed to address.
"In light of this, and the current season of disasters around the Pacific Rim, we can highlight its applicability to these kinds of situations."
The software, developed at Flinders University in South Australia's capital Adelaide, includes a free app for Android devices and a mesh extender. The extender, which runs on USB power, is a small box that acts as a Wi-Fi hub or radio transmitter.
 "If you think of it like somebody catching the flu, the mesh extender devices catch your message from your phone and then other devices in the area catch it from that device," Dr Gardner-Stephen said.
"Eventually it will find its way to the device of the person that it has been addressed to," Gardner-Stephen said.
Dr Gardner-Stephen and a team of Serval Project researchers installed five mesh extenders in the Ambae Island village of Ambanga on a previous trip and will now test the South Australian manufactured devices in real conditions.
"The village is only a little more than a kilometre long and probably a couple of hundred metres wide, so there is no existing cellular phone coverage," he said.
"The mesh extenders are just hammered onto a piece of wood and stuck on the side of a house. We've tied them on coconut palms and people can carry them around in a backpack."
In Vanuatu, which is made up of 83 islands, phone coverage can be patchy and natural disasters relatively frequent. The devices have therefore been well received by local authorities. Dr Gardner-Stephen travelled to the Pacific nation earlier in the month to speak at the UN World Food Programme's regional Emergency Telecommunications Cluster meeting. He also met with the Vanuatu Ministry of Health.
Serval Project is looking to boost its presence in Vanuatu by working with local phone carriers to develop a streamlined integration of the software within existing phone networks.
"Because our system stands alone from everything else, if we can integrate that in a seamless way with the existing cellular networks so that even if you're beyond the range of phone coverage, our devices can repeat a way back from the edge of coverage," Dr Gardner-Stephen said.
The project was developed in conjunction with the New Zealand Red Cross with further support coming from the NICER project in Germany.
Serval Project was one of five winners in the Pacific Humanitarian Challenge where it received AUD$279,000, which will be used to make technical improvements. It has also received grants from the United States and the Netherlands.
The pilot test is funded by the Australian Government's Humanitarian Challenge, and the software is free to download on the Serval Project website.