AUSSIE STUDENT 'SMASHES' NASA'S FUEL EFFICIENCY RECORD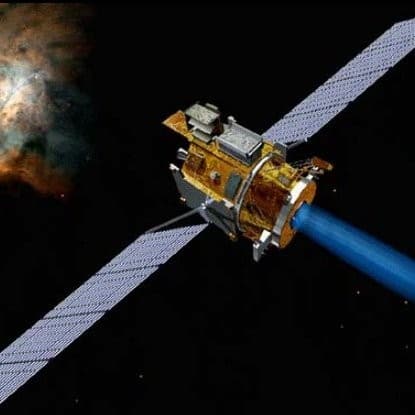 An Australian university student has reportedly developed a new kind of ion space drive that absolutely obliterates NASA's current fuel efficiency record.
Ion drives are propulsion systems that basically work by throwing particles backwards really, really fast in order to propel a spacecraft forward.
NASA's current record holder for fuel efficiency is its High Power Electric Propulsion, or HiPEP system, which allows 9,600 (+/- 200) seconds of specific impulse.
But the new drive developed by University of Sydney PhD student Paddy Neumann has achieved up to 14,690 (+/- 2,000), according to student newspaper Honi Soit.
This is an exciting claim, however the results have yet to be published in a peer-reviewed journal.
Neumann has, however, applied for a patent and he was due to present his results yesterday at the 15th Australian Space Research Conference, where more concrete evidence is expected to be presented.
What's so innovative about the new drive is that it uses a whole new type of fuel.
NASA's HiPEP system runs on xenon gas, but Neumann's ion drive can instead run on a range of metals, with the best results currently achieved using magnesium.
These types of metals are readily available in space junk, which means that the system could be significantly cheaper, and could one day be fuelled using material harvested from old satellites.
If we could work out how to do that, it would make things even more affordable, as it would save on the exorbitant cost of carting fuel into space.
The Neumann ion drive works by hitting the fuel source – in this case solid magnesium – with electric arcs, which causes ions to spray off.
These ions are then channelled through a thrust-producing magnetic nozzle, resulting in forward propulsion.
"Unlike current industry standard chemical propulsion devices, which operate through short, high-powered bursts of thrust and then coasting, Neumann's drive runs on a continuous rhythm of short and light bursts, preserving the fuel source but requiring long-term missions," write Joanna Connolly and Peter Walsh from Honi Soit.
But while the Neumann Drive outperforms NASA's HiPEP system when it comes to fuel efficiency, it falls short when it comes to acceleration, which means it probably wouldn't be ideal to power a spacecraft off a planet. But it could easily be paired with other propulsion systems to transport cargo and passengers over long distances without having to stop and refuel.
Neumann told Honi Soit that with some tweaking the system could potentially power a spacecraft to "Mars and back on one tank of fuel."
The University of Sydney's commercial arm decided not to commercialise the invention, so the intellectual property has passed back to Neumann two other researchers that were involved in the project.
They've now applied for a patent under the company name Neumann Space, and are looking to secure funding to further develop the propulsion system.
If the claims hold up to further testing, there is little doubt that SpaceX, Virgin Galactic, or NASA would be interested.