| Article appears in April 2019 Issue
AUSSIE MODULAR MINE VENTILATION SYSTEM HAS ITS FANS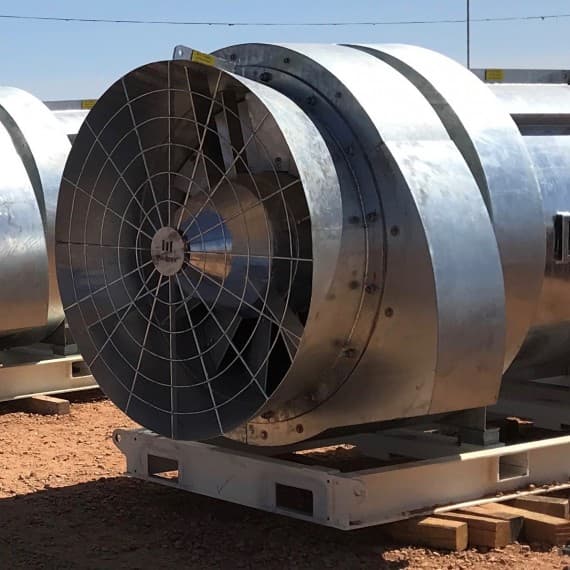 A secondary mine ventilation system engineered and manufactured in Australia by Minetek categorically offers power savings and control not yet seen in the underground mining industry.
The modular system uses high-output axial fans and a patented Mine Air Control system to maximise return from its Performance on Demand (POD) units, which automatically sense how much air is needed in any one heading at any time. Each system is engineered and manufactured specifically for the end user.
While these secondary underground fans strategically optimise air flow, they eliminate much of the power traditionally wasted in such applications while performing across a very large operating range and meeting broad regulatory compliance requirements.
"Until now, the market has to a certain limit used high maintenance variable speed drives to provide some level of control to the air flow in secondary ventilation systems," says Minetek Engineering Manager Remy Bourcier.
"But our patented system works on high pressure, steel fabricated impeller technology allowing operation at temperatures and conditions previously thought impractical for an axial fan – and we achieve this in seriously harsh environments.
"It's in the area of energy costs where the real savings are found, and this is very tangible too. Various studies point out that between 42 and 49 per cent of a mine's energy costs are consumed by mine ventilation, with the figure of about 27 per cent attributed to the cost of secondary ventilation alone.
"Typically, a fan consuming 190kW with an electricity price of 15c per kW will cost $249,660 per year to run and may not even be properly compliant. Considering the average mine uses about 15 secondary fans, the total annual consumption costs around $3,744,900."
The key to the system's cost efficiency is the POD system, an electronic controller on the fan allowing the fan to be regulated from very low flow requirements right through to more than double the duty point of a traditional vane axial fan.
The mine air control system's RFID trackers constantly remain aware which items of underground mining equipment are moving into which heading, so the POD controller will automatically adjust the air flow required to provide sufficient air volume to disperse gases and ventilate the area.
It will sense what specific truck has entered the tunnel and will be aware of the size of its engine and the number of people it is carrying, so it will automatically adjust to meet the demand for sufficient ventilation for the people in accordance with industry regulations.
Considering temperatures at the rock face can be up to 50°C, it is critical to ensure adequate ventilation is providing fresh and cool air reliably.
As it is a modular solution, mine managers can add or take away such things as silencers, adapters or booster fans, or even boost the system further through control options.
In normal underground mining conditions, the Minetek systems operate significantly more quietly, 8dB less than a twin 1400 twin 110kW for the same volume flow.
Minetek Sales Manager Richard McAlpin says the big benefit to the global mining sector is that they are no longer hamstrung by not being able to control the volume of air within the headings, and that mine owners are able to save substantial money through this control.
"What we have designed is not just a top performer, but something that is also very durable without loss of performance," he says.
"The fact that our POD system can be controlled accurately, means that the re-entry times to the mines are shortened significantly, meaning downtime is significantly reduced.
"We have spent several years developing this solution and are proving already that underground mining sectors around the world are finding it hard to ignore the cost savings it can deliver."
Minetek
02 6578 8600
www.minetek.com/