AUSSIE MECHANICAL INNOVATION HOLDS THE WORLD TOGETHER
23-05-2017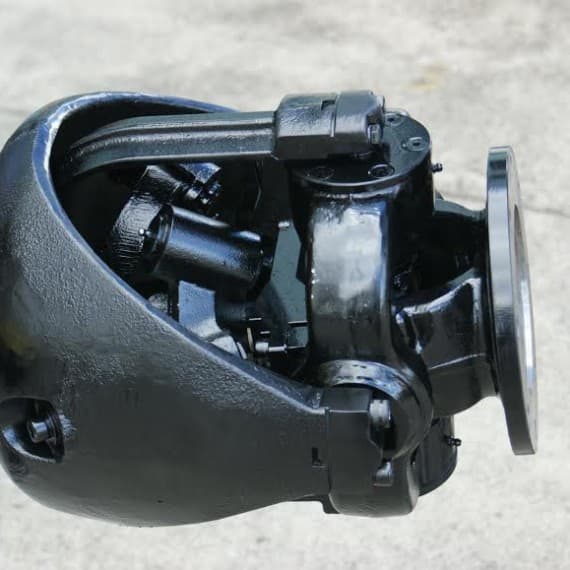 Australia has a well-deserved reputation for design engineering vision that changes the rules of the game and redefines global technological standards.
Brisbane based Thompson Coupling is one such Australian innovator and the products they have conceived, designed and manufactured sit at the global apex of mechanical shaft coupling technology.
Similarly, by use of imaginative technological solutions Thompson coupling has "re-invented" mature industry technology into a new industry proving that advanced value add product innovation is tantamount to the creation of new industries and every bit as exciting.
The Thompson constant velocity joint is an Australian product that brings together clarity of vision and practical design excellence to solve an acute engineering challenge.
When joining two rotating shafts together it is operationally critical that the two shafts rotate at constant velocity and remain in alignment when subject to variations in torque transmission and/or mounting fluctuations
Since the invention of the original constant velocity joint towards the middle of the twentieth century such alignment and simultaneous rotation is rarely achieved.
Typically, in many mechanical pump/motor setups the shafts can often misalign by up to 2-3° off centre and affect the loads on the power train bearings and other parts.
If the shafts move out of alignment by 5° off centre due to degradation from normal wear and tear or application of heavier loads the joint and/or pump can seize or come apart often causing serious damage from thrashing.
It is exactly these mechanical challenges that the advanced engineering of Thompson Couplings provides solutions for. The Thompson constant velocity joint is designed to work within a previously unheard of 15 or more degrees off centre while still maintaining minimal friction rotation and being simultaneously load bearing.
This represents fundamental engineering advances which when combined make Thompson Coupling products truly revolutionary. The applications for Thompson coupling technology are enormous.
Vehicular drive shafts, process pumps, aircraft propellers and helicopter blades, marine propulsion, rail traction drives, heavy duty positioning and aligning equipment and more.
The Thompson Coupling alignment eliminator (TCAE ®) with a primary focus on pump to motor shaft applications is another premier product manufactured and designed by Thompson Couplings Ltd.
Essentially two operationally misaligned drive shafts can be joined by the Thompson Couplings alignment eliminator and still function at full efficiency.
The engineering challenges solved by the alignment eliminator focus on firstly reducing the power consumption cost of operation where even a shaft misalignment of 1mm can result in an added power consumption, due to side load, of 10% or more.
The alignment eliminator can operate efficiently with an offset of up to 6° angular misalignment.
Similarly, the alignment eliminator reduces maintenance cost of ownership by removing the requirement for laser alignment during installation and in subsequent field maintenance. Further applications for the alignment eliminator include on-demand ad-hoc remote field operations where aligned floor surfaces may not be readily available.
The alignment eliminator permits full rotational operating efficiency between two misaligned shafts within such activities as agriculture, military logistics and support and emergency relief applications.
The return on investment for both products is immediately obvious. Two shafts out of alignment by a mere 1 degree may consume up to 10% more energy to maintain specified operating speed not to mention increased maintenance and plant downtime.
Solving these engineering challenges with a Thompson coupling solution can – in the case of 24/7 operating conditions – produce an ROI within 6 months.
While standard product designs to suit varying drive shaft sizes and applications are off the shelf a key part of Thomson Couplings value add service offering is bespoke manufacturing.
This means a solution for any drive shaft application can be designed and incorporated into any of the products for the most demanding applications.
Similarly, Thompson Couplings customised services can be designed and manufactured in short time frames with what may be some of the quickest turnaround times in the industry.
Thompson couplings has the design and manufacturing flexibility to work with any customer design team in Australia or internationally for adding into an integrated assembly or as a retrofit or as a fully hybrid bespoke application. This includes virtually any size drive shaft.
Warranty and engineering support at both design and installation stage is comprehensive and detailed support documentation is available. Field support is offered for larger and more intensive or bespoke applications including installation and commissioning.
As to be expected for this level of engineering, customer service and support is a set to the highest standards at Thompson Couplings. A distribution and support network provides on-site warranty parts back-up in addition to inspection reporting.
With such advanced technology it is no surprise that exports account for almost two thirds of all sales across the globe. Export destinations include US, UK, Europe, India and the Asian region.
The intensive R&D commitment made by Thompson couplings is in proportion to the advanced technology such an intense focus on innovation product excellence creates.
Many thousands of engineering R&D hours to date reflect not only the quality of the existing products but the new ground breaking product technology Thompson coupling will soon bring to market.
Federal and state Government R&aD grants have usefully contributed to the research effort but the majority of research funds are from re-investment of profits.
Australian company Thompson couplings has created a new era in mechanical drive shaft technology and is moving fast to become a global powerhouse in this market.
David Gray is lead consultant at Digital Information Partners offering specialist services in
media and press relations in Australia and internationally.