AUSSIE MANUFACTURING SUCCESS STORY: NATIONAL INDUSTRIES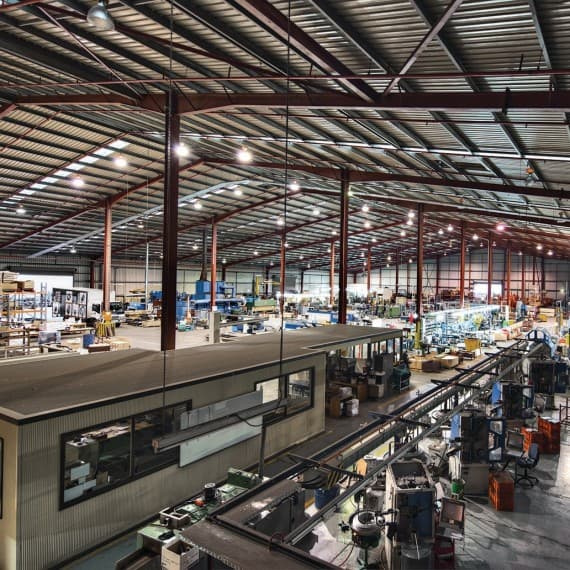 In an age filled with "doom and gloom" news regarding the future of our manufacturing industries, it is encouraging to note that real success stories still take place.
Many companies that were built from the ground up in Australia are still operating top-of-the-line businesses right here on our shores.
For the customer, the benefits of buying Australian-made products are many – designs can be built specifically to meet our standards and they get access to local sales and support.
Also customers can expect fast turnaround for spare parts and more readily-available maintenance.
Given the volatile nature of today's operating environment, access to these assets can prove the difference between a manufacturing business that is agile, adaptable and thriving, and a company that is faced with the real possibility of having to lay-off workers.
National Industries is one such company providing locally-designed and manufactured products for domestic and overseas customers.
Wholly Australian-owned and operated, the firm is one of the country's leading manufacturers and suppliers of springs, wire-formed components, and metal pressings, and over time has carved-out a niche as a cost-effective and reliable OEM solutions provider for both small and large engineering businesses alike.
Based in Campbellfield, VIC, and with a division in Fortitude Valley, QLD, National Industries specialises in five key business areas:
Springs and wire forms
Laser cut products and metal pressings
Raw materials
Steel, wire and sheet, mesh and filtration products
Metal fabrication.
Using the latest CNC-controlled laser cutting machinery, state-of-the-art precision laser cutting equipment, metal pressing multi-slide equipment, and power press equipment, National Industries is able to offer the ultimate in manufacturing flexibility, eliminating many of the traditional complex tools and their associated costs.
The sheer size of National Industries' manufacturing enterprise allows it to supply many lines from stock, supporting both large production companies and smaller engineering firms.
The company is committed to moving forward, continuously pushing the boundaries and evolving to provide a comprehensive manufacturing experience for its customers, through capability, technology, quality, and service.
Constantly striving to anticipate its customers' needs, National Industries is continuously reviewing its plant and equipment with a view to incorporate the latest and most advanced technologies from around the world.
Its uncompromising commitment to quality and customer service ensures that the production outcome is in full compliance with its Quality Assurance Certifications, and the accreditation is updated and reviewed on a regular basis.
Processes to support this system include Online Inspection and Kanban Scheduling, allowing National Industries to meet specific customer requirements.
National Industries
Ph: 03 9357 8088