Published 16-07-2020
| Article appears in June 2020 Issue
AUSSIE MANUFACTURER TURNS ADVERSITY INTO OPPORTUNITY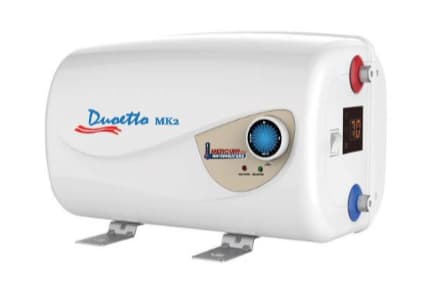 Aus J Hot Water Solutions, an enterprising Australian manufacturer of convenience hot water products, has stepped up to meet expanding world demand for portable hot water systems.
As COVID restrictions ease, RV holidays and expeditions are growing in popularity. Adventurers looking to go off-road need portable hot water to bring with them, so it's the perfect time for Aus J to launch its latest 12v/240w Duoetto MK2 water heater.
"The domestic adventure travel boom is a global phenomenon happening now," says Aus J Hot Water Solutions designer and managing director Jay King.
"People just about everywhere are taking to the roads in RVs, ranging from mobile palaces costing millions of dollars right through to the camping, caravanning, power boat, yachting and adventure RV market that we serve."
Aus J has already sold tens of thousands of its home and portable water heaters in Australia, New Zealand and globally, but now it aims the Duoetto MK2 10-litre water heater at RV travellers going off the beaten track.
The Duoetto is also ideal for work vehicles used to tow RVs to remote places and worksites in which it's important to maintain optimum cleanliness and comfort.
As the immediate threat of the COVID pandemic abates in some areas – but international borders remain closed – King has seen a distinct uptick in inquiries both from around Australia and New Zealand, and from areas such as Europe and the USA.
One of the most recent calls for the latest Duoetto was from Californian RV specialist Mark Gibbs, who says his long-established (1971) business is "going mad" meeting demand from people who want to get away from it all.
Gibbs has been an enthusiastic proponent of the original Duoetto for more than a decade, fitting it OEM to the RVs produced by the American Camper Shells and Van Works company of which he is managing director.
"This product – and the backup they give it – is perfect for us," Gibbs says.
Gibbs says he's used many Duoettos for many years with very few issues.
"We use it in truck and lifestyle conversions with just a 12v connection and simple set up. We install a one-hour timer to auto shut-off when the right temperature is attained."
The tough, Australian-designed compact and durable water heater offers selectable temperatures between 30 degrees C and 70 degrees (86-158F) on 240v so people can shower, wash, clean and enjoy abundant hot water whether mains power is available or not.
The heaters can also be calibrated for 110v markets.
"Automatic sensors allow switching to 12v when mains power is not available," King says.
"This enables the Duoetto to deliver ample hot water in remote areas such as campsites or on boats where mains power is unavailable, which it often is in large areas of major RV, marine and work vehicle markets."
The project is the latest for King, a keen RV designer and user whose recent triumphs include a Toyota HiAce conversion that puts all the comforts of home, including hot water, into one of the world's most popular vans.
King designs the water heaters himself and ensures production to Australian standards of toughness and quality.
King is also targeting Europe with the new Duoetto, sending review examples to leading international publications such as Britain's MMM magazine, an RV bible for English-language audiences.
The product is also being promoted in South Africa and South-East Asia, where local travel promotions are also expanding demand for holidays within local borders.
"We see the post-COVID era as a time of renewal for the local holiday industry, an enormous update in scale and scope on the old convoys of caravans you used to see in Australia and New Zealand 50 years ago," King says.
Now the market is much more sophisticated, and owners of mobile homes and boats want hot water at call to shower, cook and preserve hygiene, even when they are self-isolating out in the bush.
Hot water has become even more important for comfort and hygiene with the high level of awareness of COVID risks, not just for recreation vehicles and vessels but also work 4WDs, trailers and boats operating in remote areas far from mains power.
Aus J Hot Water Solutions
+61 419 993 042
www.ausj.com.au