AUSSIE MANUFACTURER TURBO CHARGES THE INTERNATIONAL MARKET
18-05-2017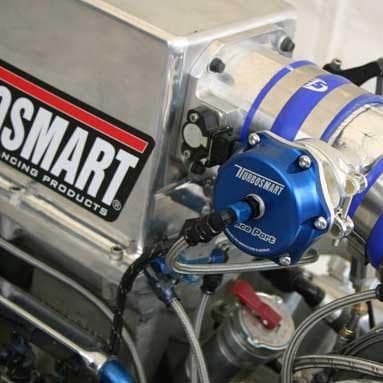 Throughout history some of the world's game changing inventions whether the steam engine or the first aeroplanes were conceived, designed and built not by scientists and engineers but passionate self-educated enthusiasts.
Today such outcomes are not the norm but when they do occur the effect can be exciting and game changing.
Australian Nic Cooper is one of those passionate enthusiasts.
He is now recognised as one of greatest automotive inventors and innovators Australia has produced – and the company he created is TurboSmart.
TurboSmart has offices in Europe and the US and exports account for more than half of all sales. TurboSmart employs almost 45 people in Australia and even more in the international offices in Europe and North America.
TurboSmart products are used and sold across all continents and business is growing. It all started with Nic working in his backyard shed with a small lathe and grinder essentially making a single product by hand.
Today TurboSmart manufactures and sells some 700 product parts within five main product groups.
The first product was a pressure release valve for turbochargers. Through experience and observation Nic had noticed the turbo device lag time between pressure/exhaust evacuation following gear changes and the moments required to restore the pressure for the turbo fan to reach optimal performance speed.
Generically referred to as Turbo "flutter" and the bane of all turbo charged car owners, Nic conceived a way of efficiently breathing out the compressed air in the turbo so that the time lag and "flutter" were reduced to almost nothing.
The implications for both turbo performance by creating power on demand as well as reduced strain on the turbo were obvious.
This turbo pressure release valve was at first sold to friends who in turn told their friends and so on until Nic was hand making two or three units a day all of them bespoke with adapter connections to different Turbo charger brands.
Just to test the market Nic ran a small advert in a motoring enthusiast magazine and as Nic states: "the phone went crazy with all the calls."
By now it was clear Nic has a viable commercial business and partnered with a local Australian manufacturing organisation and things took on a more focused commercial footing complete with offices, staff, engineering drawings, R&D departments and so on.
The number of employees has increased almost fourfold over the last 10 years. Nic has also brought to market additional performance enhancement products as aftermarket add-ons to Turbo Chargers as well as updating and further improving the designs and features of the initial product line up.
Newer TurboSmart products include pressure boost controllers, fuel and oil control systems and gauges.
The on-going commitment to R&D at TurboSmart speaks for itself, some $700,000 last year alone which includes full engine strip down of cars to ensure the most seamless engineering compatibility of TurboSmart products and the laser like focus on improving car performance through improved engine breathing.
TurboSmart has accessed some Government grants and offsets but makes it quite clear such Government assistance is modest and just lessens the cost pain of R&D and business structuring for exports.
Today TurboSmart is an Australian product conception and design success story of which many can be in awe. TurboSmart has changed the way we perceive, use and apply turbocharger technology across the globe.
Its products are used an all areas or motor sport, off road four wheel driving as well as domestic use.
Nic Cooper of TurboSmart is living proof that if you have a commercial vision; pursue it with passion realism and dedication.
David Gray is lead consultant at Digital Information Partners offering specialist services in media and press relations in Australia and internationally. www.diginfo.com.au