Published 12-05-2020
| Article appears in April 2020 Issue
AUSSIE MADE VENTILATORS ON THE WAY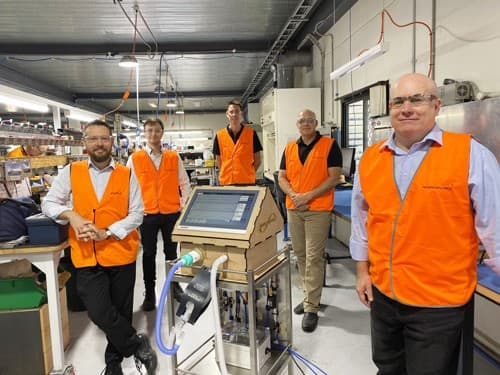 Ampcontrol has been announced as one of two NSW organisations to produce emergency ventilators in response to the coronavirus pandemic.
The NSW Government made the announcement after Ampcontrol engineers were able to design and deliver the first functional emergency ventilator prototype for testing at the John Hunter Hospital in just 18 days.
Ampcontrol will now commence production of 10 pilot ventilators alongside further clinical assessment and testing by NSW Health. The ultimate goal is to enable 600 ventilators to be rapidly produced in the Hunter region should the need arise.
"We are so immensely proud to be able to do our part and lead this critical health project," says Ampcontrol managing director and CEO Rod Henderson.
"Knowing that our ventilator could help save lives in the fight against COVID-19 is incredible."
The prototype was created in collaboration with local clinicians and two Hunter region electrical engineering firms, Safearth and NewieVentures. Specialist clinicians from Hunter New England Local Health District and the University of Newcastle were on hand to offer advice, minimise risks, and accelerate the team's knowledge of ventilator systems.
"We specialise in resources, infrastructure and energy solutions, and what the team has achieved in partnership with clinicians in such a short timeframe is nothing short of outstanding, and a testament to the engineering excellence and ingenuity in our country."
Henderson believes the achievement is a perfect demonstration of Australia's highly advanced manufacturing capability and ingenuity.
"We have been able to rapidly swing our world-leading expertise and production facilities into manufacturing critical emergency equipment right here in the Hunter," he says.
"It's so important that industry and government work together so that we can continue to produce innovative solutions and products here in Australia that make a difference to people's lives around the globe."