AUSSIE MADE PLASMA CUTTER USES LATEST HYPERTHERM TECHNOLOGY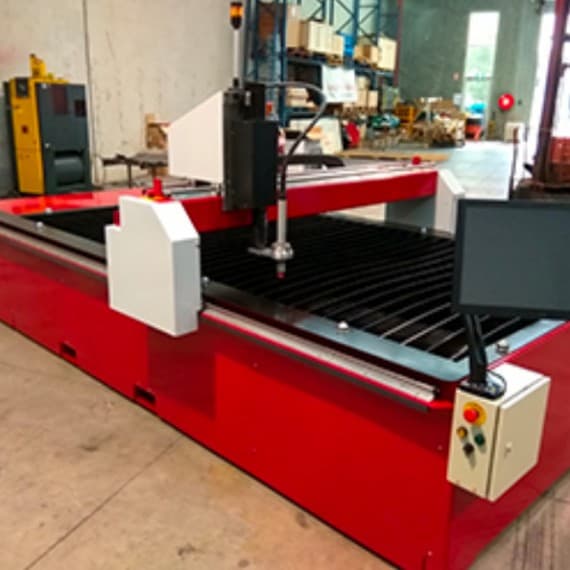 Farley LaserLab has developed an entry-level plasma machine that offers low-cost access to the very latest Hypertherm technology. The Farley QuikEDGE Connect is an Australian engineered heavy-duty machine that is made in Australia using Australian steel.
The QuikEDGE has a 1.5 x 3m table design that helps to provide optimum cutting results using the standard Hypertherm Powermax plasma source. However, its robust base is strong enough to support a full upgrade from the smallest plasma unit to the Hypertherm Hydefinition plasma system, and so the QuickEDGE can be expanded to suit changing requirements.
The basic version comes complete with the latest Hypertherm Edge Connect CNC controller - complete with a 19in touchscreen HMI - and Hypertherm Pronest LT CAM software.
Farley has built a heavy-duty motion system designed on dual-sided table rails, with a mounted railed torch box for superior cut accuracy, longevity and quality. It uses 4-axis digital EtherCAT drives and motors with planetary gearboxes for precision control.
The company's own EtherCAT driven auto height sensor also helps maintain superior cut quality, with substantially improved productivity and reduced operating costs for plasma cutting applications.
With a cutting speed as fast as 20m/min, the Farley QuikEDGE Connect boasts an accuracy of +/-0.2mm and repeatability of +/-0.1mm. In its basic form it can cut mild steel up to 80mm thick (32mm dross free), stainless steel up to 75mm thick and aluminium up to 50mm thick.
A wide range of upgrades is available, including pipe cutting, CNC spot drilling, a CNC oxy cutting torch, a manual angle bevel cut lifter, a wet table, and the ability expand to 6m cutting length.
Farley LaserLab
03 9318 0926
www.farleylaserlab.com.au