AUSSIE MADE MANUFACTURING IS EXPORT SUCCESS
04-05-2017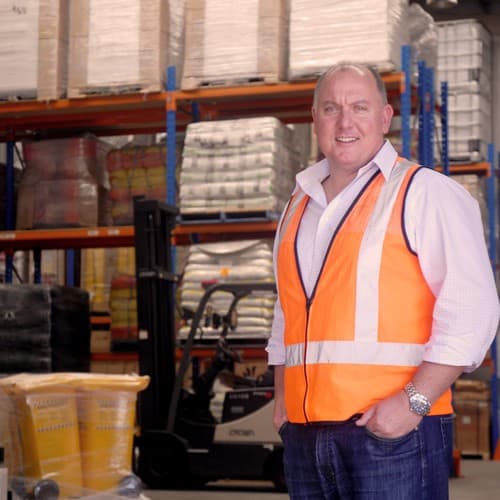 Brad Lowson is proud of the Australian Made Global Spill Control product portfolio
Global Spill Control is a "Proudly Australian Made" success story. The company now manufactures in excess of 90% of its products in Australia and continues to grow its Australian workforce. During 2016 it relocated to larger premises in Melbourne's north and invested in specialist plant and machinery to assist in its growth objectives. But not everything in the garden is rosy.
According to General Manager Brad Lowson, the company is regularly overlooked for relatively minor government contracts with no apparent justification – a strange state of affairs considering that Global Spill Control has been the recipient of government grants that enabled it to expand its manufacturing base and its workforce.
"They incentivise us to create new jobs and employ more people, but are not prepared to assist by awarding work to local manufacturers," he says. "We win a reasonable amount of work overseas (including locations as far away as South America), but cannot land a tender to supply virtually the same equipment to the State Government."
The company is a market leader with its range of Australia made spill and safety equipment, ranging from spill kits and absorbents for oil and chemical spills, to sophisticated offshore marine oil spill equipment, safety signs, road signs, containment solutions and dangerous goods equipment and storage.
And greater than 90% of the company's portfolio is manufactured at its Melbourne facilities, meeting the stringent requirements for either the Australian Made logo or the prestigious Product of Australia logo.
"We have a can-do and innovative approach to everything we do and we are constantly looking at ways to drive out inefficiencies in the manufacturing process or procurement supply chain," says Lowson. "We also source the vast majority of our raw materials and components as locally as possible."
"So it's particularly disappointing when we see local contracts, with no 'Australian Made content' requirements, awarded to either overseas bidders or to local companies who are simply importing their products. In contrast, look what's happening at the moment with the USA manufacturing segment," he says.
"Tender evaluation panels do not typically consider the broader Australia-wide economic benefits of supporting a domestic manufacturing sector. Quite simply, money spent on Australian made products and equipment stays in Australia. It goes to Australian companies and Australian workers who all pay their taxes in Australia and spend their money in Australia. This has to be a win-win scenario for the Australian economy as a whole."
Much has been made of late about the new Commonwealth Procurement Rules, and the requirement for purchasers to consider the economic benefit of the procurement to the Australian economy as a whole. However, that stipulation only holds for contracts valued above $4 million.
As Brad Lowson points out: "Most contracts in our industry segment are way below that value. And we miss out on deals valued at less than $1 million, where we see winning tenders with zero Aussie content. That can't be right!"
While Lowson would like to see economic benefit procurement policies extended to all levels of Federal, State and local government contracts, his company continues to expand its Australian manufacturing output.
Fortunately for Global Spill Control, its products are in demand outside Australia. The company now exports products through Asia, the Middle East, Africa, and South America.
"It just seems odd," says Lowson, "that we find it easier to sell the Australian Made story in the Philippines than to the State or Federal Government in Australia."
Global Spill Control
1300 774 557
www.globalspill.com.au