AUSSIE MADE HYDROBLASTER BOASTS TREMENDOUS CLEANING POWER
22-05-2017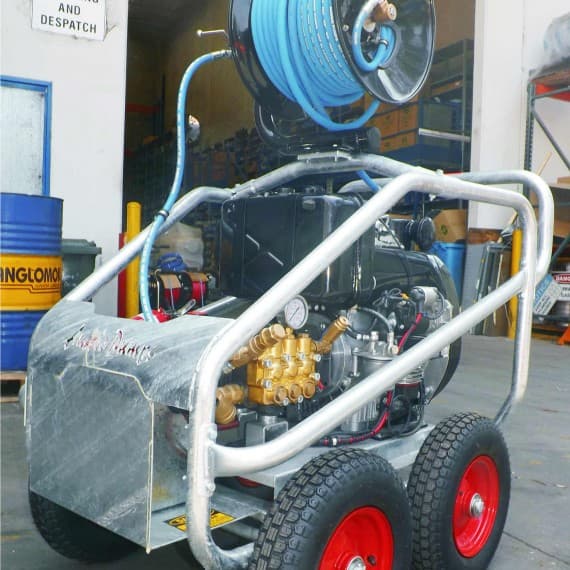 The Aussie Predator is a 5000psi hydroblaster powered by a big 23hp Kohler air-cooled diesel engine claimed to deliver tremendous cleaning power with minimal use of water.
Based on a heavy-duty Bertolini triplex pump that develops 20L/min flow at 5000psi, the Predator's cleaning power can be boosted to an effective working pressure of 8500psi when equipped with an Aussie Turbomaster turbo lance.
The Predator comes in a sturdy galvanised steel trolley with four pneumatic tyred wheels. A hose reel and 60 metres of hose fits easily to the frame. The reel means that the hose is stored tidily, which prolongs the life of the hose and reduces trip hazards.
The unit comes as standard with the Aussie Safety Protection system: a safety valve that protects the operator and machine from spikes in the system. A thermal dump valve is incorporated to protect the machine from overheating due to bypass running.
The Predator is rated as a B class machine under the new Australian safety standards, and so is fitted with both an emergency stop and a 500bar hose shroud. An optional foot valve is also available.
"Because we make the Predator in volume, the price is a fraction of the equivalent of imported machines that are designed for far less demanding European conditions," says Aussie Pump's Operations Manager, Hamish Lorenz. "The Predator is living proof that Australia's machines are as good as any in the world and are priced competitively," he adds.
Australian Pump Industries
02 8865 3500
www.aussiepumps.com.au