AUSSIE INVENTORS LEAD THE HOLOGRAPHIC PACK
13-06-2017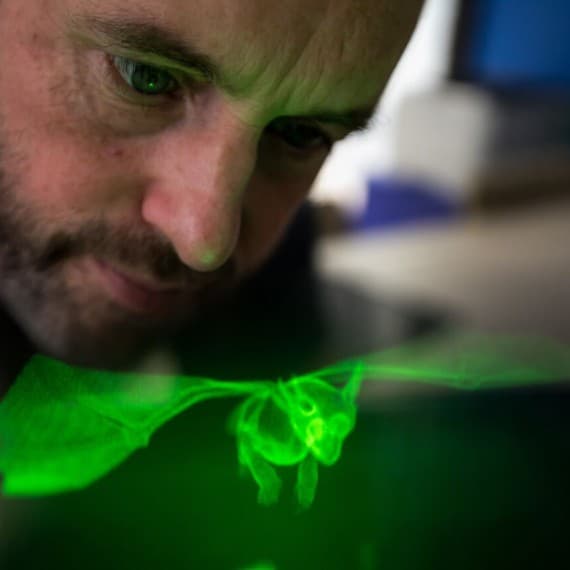 Australian inventions have a proud history of changing the world, how we as people think about the limits of technical frontiers - boundaries of the possible and the rewriting of rule books in a most positive way.
Adelaide based Voxon technology has indeed changed the world passing through barriers of the imagination into a new technical universe of world first holographic, fully volumetric 3D imaging.
This ground breaking holographic technology does not require special glasses or headgear has been developed right here in Australia by great Australian innovators. Voxon co-founders Will Tamblyn and Gavin Smith, along with the Voxon team, are proof positive that a clear technical vision supported by focus, discipline, patience, determination and a practical sense of proportion can potentially deliver some of the most ground breaking inventions on the planet.
Even for a great Aussie innovators such as the team at Voxon things don't happen overnight and the development of this truly ground breaking holographic technology was years in the making needing as much perspiration as inspiration. The technology of bending and controlling millions of point of light and the parameters of light projection are complex while the concepts pioneering and cutting edge.
Great ideas that later become great products have to start somewhere and the initial product development process started by experimenting with laser pointers, gradually adding and further experimenting with various light refraction mediums.
The timeline from the initial idea to today with a bring to market product has been almost nine years. R&D investment including all hours worked so far equates to a notional value of almost $5 million with more than 4000 research hours involved.
Government assistance from all levels exceeds $50,000 while recent private investment approximated ten times that amount. Vital and critical assistance also came from Adelaide's Flinders University that made a grant and facilities available to Tamblyn and Smith and their colleagues for that vital product development and testing research. Today the reverberations from this exciting holographic technology are being felt around the world and across many commercial industries.
Medical Imaging, product visualisation, video gaming, prototype designs, military/defence applications and archaeology. In sum the interest being shown in this Australian technology is huge. It is envisioned that doctors would potentially be able to see and rotate the human heart holo image in full 3D creating the basis for a safer and more complete operating environment.
Similarly medical students now have access to a more informative, interactive and intensive medial training by utilising this technology. Already Voxon has a team working the United States which includes a graphic rendering expert of international renown adding to the product capability, support and field testing new and exciting applications. A team of six has recently been hired by Voxon in Adelaide providing well paid value add technology jobs for Australians.
The holographic volumetric product named the VX1 is shipping right now and available for order in developer kit form.
Just how ground breaking and impressive is this technology?
See for yourself at www.voxon.co
David Gray is lead consultant at Digital Information Partners providing media and public relations services both locally and internationally. David can be reached at cionbtact@diginfo.com.au