Industrial lasers & sensors
AUSSIE COMPANIES INNOVATE WITH GERMAN LASER TECHNOLOGY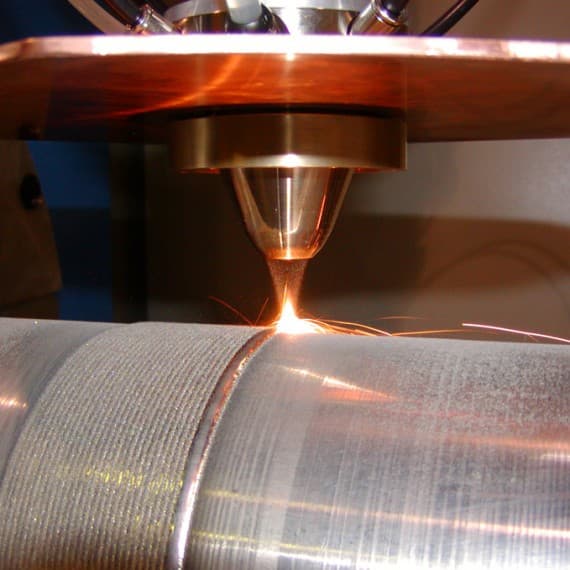 The demand for surface repair of large metal parts drawn from a wide range of heavy industries such as mine drilling equipment, structural aircraft parts, industry rollers, pumps, compressors, hydraulic values, turbines and so on has been matched with the rise of local companies offering effective surface engineering solutions.
Across Australia a number of companies offer repairs using Laserline laser systems to clad damaged and worn areas. Intensive wear and tear in harsh conditions results in damaged parts and reduced efficiencies, with large parts not only expensive to replace, but factoring in the costs of downtime can have severe economic consequences.
Laser applications for surface engineering in steel, aluminium and other metals provides stable pore-free and crack free finishes with additional benefits of extending the life of the repaired part beyond its original projected operational life.
These successful repairs can be attributed to the German manufacturer of the diode laser systems, Laserline, which recently celebrated 20 years of research and development into the use of lasers for joining and cladding.
Laserline founders, Dr Christoph Ullmann and Volker Krause, originally set out to build a better diode laser for industrial materials processing than those then available. And they succeeded
They didn't just create a reliable laser system, they provided a solid base for businesses at the local level to carry out their own research and development to better meet the demand for repairs across a range of Australian industries.
Companies that have installed Laserline systems have embraced the challenge to meet demand, establishing their own R&D to come up with uniquely tailored solutions for their Australian customers. For example, combining laser cladding with high-pressure thermal spraying to deliver high-quality repairs and prolonging the operational capability way beyond the initial part life.
It is true that adopting new technologies requires change, adaptation and perseverance. And finding surface engineering solutions to reduce costs and maintain functioning parts is a challenge.
Understanding this, the founders of Laserline have offered some words of support based on their experience: "Do not be irritated when the great breakthrough seems to remain in the pipeline for quite a while. And certainly, function as a team and try to get through the ups and downs together."
It seems this Laserline 'can-do' attitude is being embraced among a group of SMEs across Australia.
Raymax Applications is the Australian distributor for Laserline.
Raymax Applications
02 9979 7646
www.raymax.com.au