AUSSIE CAR MANUFACTURING REMAINS TOUGH
13-06-2017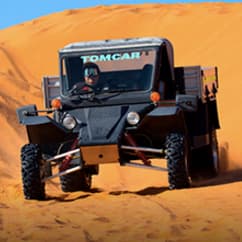 "I want more people to start making products in Australia," says David Brim. "The future of Australian manufacturing is niche, high-value products. We can't compete with China and Thailand on mass market products. We need to be like Switzerland and manufacture things nobody else can make."
Brim is the co-founder and chief executive of Tomcar, and the unique product he's talking about is premium off-road vehicles.
It's a product with a surprising amount of practicality; he started the business to service cattle stations when he saw them wear through utes in a matter of months.
"Most [off road vehicles] are mass produced and they're all made overseas and not for Australian conditions, which are very harsh," says Brim. "We saw so much opportunity when it came to machinery that wasn't made here and wasn't made for Australia," he says.
"Big agricultural properties and the mining industry are showing a lot of interest in our models and we are pushing very hard into the defence space taking part in the new mobility trials this year. People are beginning to resonate with what we are doing."
The price for a car is around $32,000. Brim says that price isn't necessarily where they compete with other available options, instead relying on their brand-recognised toughness and durability, and ease of maintenance.
Their business model is unusual for automotives, bypassing the traditional dealership sales model and distributing directly to buyers through their website. This has allowed them to lower their margins, and put their saved money back into developing better cars.
"We are getting there, it's an expensive business," Brim says. "You need to not know anything about the car industry because you wouldn't do it otherwise. But if it's done correctly, it's very profitable. Just look at Tesla, Elon and his team are much better funded than we are but they have a very similar model."
Turnover is just under $10 million a year and Tomcar is doubling production from the end of June. They've been growing "exponentially" for years, according to Brim, and produce one car every four days. Tomcar is also currently working with the CSIRO on a $100,000 feasibility study it's hoped will turn the Tomcar electric.
Tomcar Australia
www.tomcar.com.au