AUSSIE AUGMENTED REALITY CAD SOFTWARE GOES GLOBAL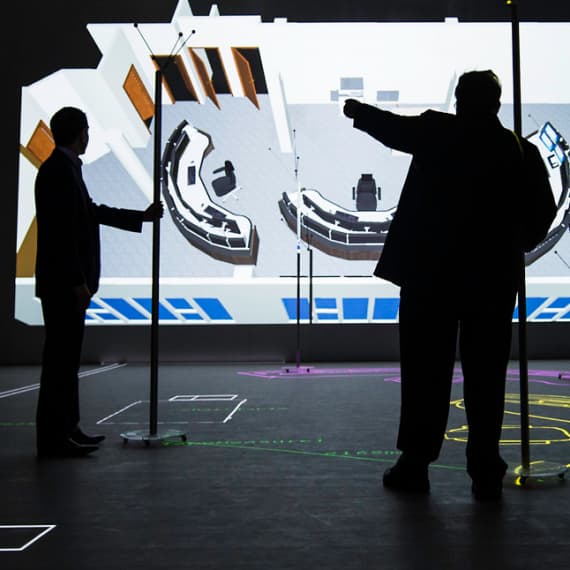 "I think that people have to look at manufacturing in a different way," says Lena Kimenkowski, COO of CADwalk.
A world-first augmented reality tool is being expanded into Europe to create designs for everything from hospital emergency departments to factories.
Building upon a regular Computer Aided Design (CAD) plan, the patented CADwalk system uses software to display an image of a room on to a large wall screen and project the floor plan on to the floor in actual size.
First developed with the help of the Wearable Computer Lab at the University of South Australia, CADwalk Global was previously known as Jumbo Vision International. The company originally used the software to design control rooms, but has now expanded it for use in almost any mission critical environment.
Chief Operations Officer at CADwalk Global Lena Kimenkowski said the system gave users a physical sense of a designed space before the building process began.
"It's all about getting the key experience of the space, especially for people who aren't designers, but can walk through a space and know if it feels right," she said.
"A lot of the time these sort of industries create mock-ups using wood or cardboard, so CADwalk is a big cost saver, and it's also more environmentally friendly.
"You bring in the sort of people who know their environment and they can then play through different scenarios or get a sense for what kind of impact a change such as adding new machinery is going to have and optimise from that."
Because CADwalk relies on specialised hardware, expanding its physical offices worldwide is an important part of bringing the service to more designers.
Last month, CADwalk launched its first international office in Munich, Germany. The Munich office will open fully next month as a central location to provide design services for Europe
The opening of the Munich office was aided by an Australian Federal Government commercialisation grant, with the Germany based office planned to tap into factory design in the region.
"What we're doing is we really looked for subject matter experts in each field, because there are already experts out there designing factories and so on," Kimenkowski said.
"Then we provide CADwalk to them as a service so they can work with their clients, the big thing we want to do is show people that it's here and that other people can use it.
"It doesn't have to be us leading the consulting or the design process, we can just make it available for other people to utilise as well."
Each of CADwalk's offices feature a 200sq m floor that can be used to display floor plans. By panning or scaling, the floor can display larger designs, with some of CADwalk's biggest projects approaching 2000 square metres in size.
Since expanding on its initial premise, CADwalk has been used to design several towers for Airservices Australia.
CADwalk was also used to test and approve a shop-refit in a single day workshop between an external designer and their client in Western Australia.
"We think that there's a lot of interest for people to look at their designs in a different way in advance, rather than going ahead with the building side of things straight away," Kimenkowski said.
CADwalk
08 9353 6200