AUSPACK PLUS 2013 opens tomorrow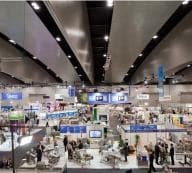 Visitors to this year's AUSPACK PLUS can expect to see the latest technology and products from Australia's packaging and processing sector.
AUSPACK PLUS 2013 is a must-attend packaging and processing trade show encompassing the entire value chains including design, production, processing, packaging, materials handling, assurance and consumer protection.
AUSPACK PLUS 2013 brings together:
Over 1100 brands on display
More than 260 exhibitors including 62 international
Over 6000 packaging and processing industry professionals in one location
AUSPACK PLUS opens tomorrow at the Sydney Showground, Sydney Olympic Park and runs until Friday May 10.
The Show offers packaging and processing solutions for every market.
It is the only trade show in Australia that delivers innovations for all vertical markets.
The Show features everything from manufacturing to materials handling and fast moving consumer goods to pharmaceuticals, cosmetics to chemicals and automotive to printing.
AUSPACK PLUS 2013 is owned by the Australian Packaging and Processing Machinery Association (APPMA), which celebrates its 30th anniversary this year.
The APPMA are Australia's only national packaging and processing machinery organisation.
AUSPACK PLUS 2013 special features include:
A Bioplastics Pavilion
Materials and Components Pavilion
Australian Institute of Packaging National Technical Forum (register online now at www.aipack.com.au)
And new to AUSPACK PLUS 2013:
AUSPACK PLUS Connect – an event Appointment Planner that helps you pre-arrange meetings with exhibitors and plan your visit to the show.
AUSPACK PLUS Smart Phone App – Now available to download.
Additional events held during Packaging Week in conjunction with AUSPACK PLUS 2013 include:
The 2013 APPMA Awards of Excellence to be held at the Jamison Room, Sydney Showground on Wednesday, May 8 at 5.30 pm
The Australian Institute of Packaging (AIP) National Technical Forum at the Somervile Room, Sydney Showground on Thursday, May 9 from 8.30 am to 3.30 pm
The 2013 WorldStar Packaging Awards at Novotel, Sydney Olympic Park on Thursday, May 9 at 6.30pm.
For more information: www.aipack.com.au