AUSPACK PLUS 2013 breaks records
31-08-2010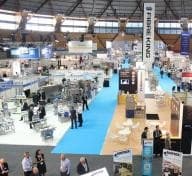 The recent AUSPACK PLUS 2013 packaging exhibition held in Sydney broke all time records for the most exhibitors.
And the event attracted the largest number of visitors in the past decade.
According to Mr Luke Kasprzak, Event Manager, AUSPACK 2013 achieved 5922 visits over the four-day event – the second highest number in history of the Sydney show.
"AUSPACK PLUS 2013 also saw the largest offering with 308 exhibitors in total, including 112 international exhibitors (including co-exhibitors) from 18 countries. Exhibitors this year also occupied the largest space in history of AUSPACK in Sydney with display of 7100sqm," Mr Kasprzak said.
"The APPMA and ETF have put the success down to knowing the market, listening to what it wants and providing the right platform for business, education and networking."
The 2013 APPMA Awards of Excellence were again held in conjunction with the event at the Sydney Showground.
The Awards of Excellence are designed to recognise outstanding innovation in packaging and processing from design to production.
"We also continued our long-standing partnership with the Australian Institute of Packaging (AIP) who ran their biennial National Technical Forum at the show, Mr Kasprzak said.
"The theme was Global Packaging Trends and the speakers came from China, Indonesia, United States, South Africa, India, Austria and Brazil." 
Also, the World Packaging Organisation (WPO) held its board meetings at the show, culminating in the WorldStar Packaging Awards.
Twenty-five members of the World Packaging Organisation attended three days of meetings. They included representatives from Turkey, Austria, Israel, Norway, China, India, South Africa, Nigeria, Brazil, Kazakhstan, Korea and Indonesia.
The 2013 WorldStar Packaging Awards, saw over 220 people coming from over 27 countries.
AUSPACK PLUS is owned and presented by the Australian Packaging and Processing Machinery Association (APPMA), Australia's only national packaging and processing machinery organisation.
APPMA Chairman, Mr Mark Dingley said the most pleasing aspect of AUSPACK PLUS 2013 was the level of optimism by both exhibitors and visitors. 
"In particular, the positive feedback received from a majority of our exhibitors on the high level of enquiries and quality that they received at the show."
AUSPACK PLUS 2015 will be from March 24-27, 2015 at the Melbourne Convention & Exhibition Centre.