AUSPACK 2015 WRAPS UP ON A HIGH
07-04-2015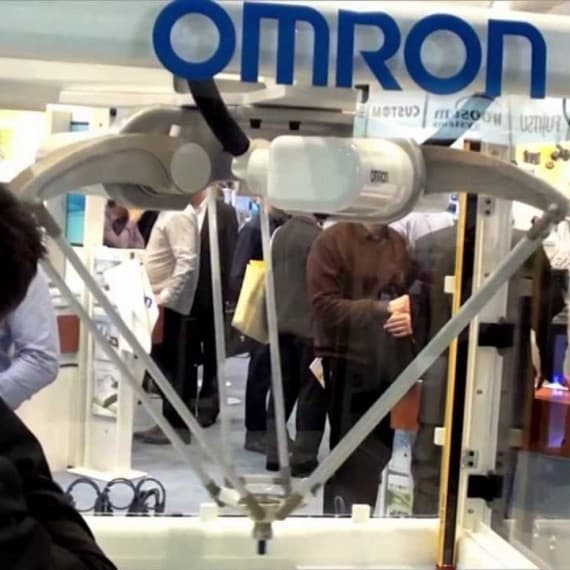 Exhibitors at AUSPACK 2015, Australia's leading packaging show, say this year's show was one of the best ever.
Held at the Melbourne Convention & Exhibition Centre, this year marked the 30th Anniversary of AUSPACK.
More than 315 exhibitors, including 80 internationals, showcased the latest products and technology.
Mr Paul Gibb, QLD state manager for Omron, a leader in automation technology, said his team fielded dozens of enquiries from interested visitors.
Omron joined forces with packaging giant Visy to display the latest in robotic and vision sensor technology.
The display included Omron's state-of-the-art controllers and Delta 3 Pick & Place Robots.
Omron's FH-series Vision System controller provides higher speed and precision for Machine cycle time.
It is loaded with all of the performance required to move machines quickly and at high precision into a compact Controller for embedding into Machine.
The Camera/communications interfaces, image processing algorithms, and other features of this complete image processing system are built into one housing.
The FH-series can increase productivity and improve profitability.
Mr Gibb and a team of experts from Omron was on hand to demonstrate the machine's capabilities and answer industry questions.
"Visitors showed great interest in the new technology which can be used for a variety of applications, particularly for food & beverage and packaging industries."
Visy Automation is now using Omron's Delta Robots to replace the manual handling of products at its packaging sites across Australia.
The Omron Sysmac NJ Machine Automation Controller (MAC) is at the core of its system architecture.
Mr Gibb says unlike other systems, the high-speed Atom® based controller can drive up to eight robots.
Many of the AUSPACK exhibitors launched new and innovative solutions, including the Omniverse Group, which displayed its full 3D immersive reality packaging that brings everyday print and packaging to life.
"Omniverse Reality is about to become a very real part of our lives, said CEO Brendan Yee. 
"With the advent of smart phones product packaging is on the cusp of a digital revolution, Mr Yee said. "The interest shown in the technology over the four days was overwhelming with 600 interested parties registered."  
Viewed through a mobile device, Omniverse Reality allows consumers instant access to additional detailed information on products they wish to purchase.
"The technology is also aimed fairly and squarely at export markets where packaging can be overlaid in multiple language formats making it quintessential for food exporters, and a key benefit when selling abroad," said Mr Yee.
"Tomorrow's supermarkets are also top of mind.  As the current generation of tech-savvy shoppers continues to grow, so will the need for technology that makes the experience appealing and enjoyable. Omniverse Reality means companies can interrelate with consumers at the shelves."
Omniverse Packaging  supply rigid and flexible packaging to a wide range of industries.
And gases and engineering company BOC launched its new MAPAX_LD leak detection technology at the Melbourne show.
This is an innovative solution for the packaged goods industry that offers high-speed and non-destructive in-line leak detection.
Mr Jon Hawton, Market Manager, Food & Beverage Bulk Gases explains that MAPAX_LD uses hydrogen as the detection gas and detects faulty packages which can be removed from production chain more quickly and easily.
"This globally patented technology uniquely allows 100 percent of packages to be tested in a non-destructive manner which can prolong shelf-life. This is particularly important in the food industry. Previously production pauses and visual or water testing could only test the integrity of random samples of packages," said Mr Hawton.
Leakage and failure often occurs when food packages are not all fully hermitically sealed. This can be due to poor sealing or physical damage such as pinholes, or when product gets caught in the seal and can lead to loss of shelf life, damaged products or poor appearance and therefore spoilage.
MAPAX_LD is used on modified atmosphere production lines for a wide range of packaged goods. It allows all products to be tested and individual defective items to be removed. This reduces spoilage and minimises environmental impact, because only the leaking packs need to be destroyed instead of the entire batch.
"If only random checks are applied, this means that when a leak is found, the whole batch produced since the last check either has to be repackaged, disposed of or even recalled. MAPAX_LD can help companies reduce these inefficiencies and keep production costs down," Mr Hawton added.