AN AUGMENTED VISION OF MANUFACTURING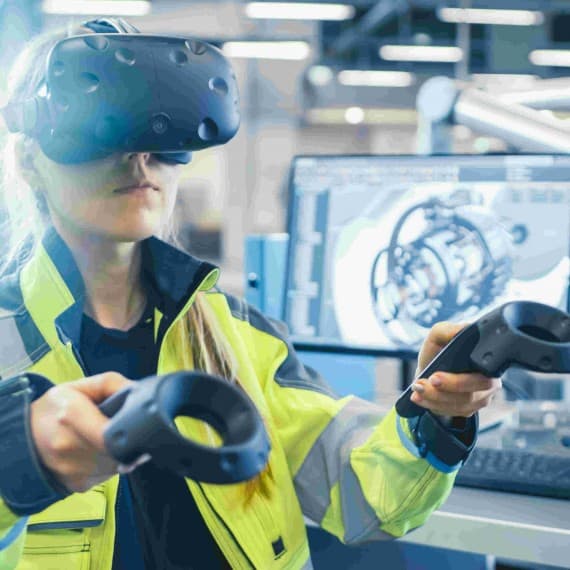 John Young discusses how augmented reality can benefit manufacturers and why this is a trend worthy of investment.
Augmented reality (AR) is considered by some to hold the key to the creation of the smart factories promised by Industry 4.0. However, manufacturers can often be wary of buying into new technology trends, worried that the investment will not produce a tangible return.
AR is often confused with virtual reality (VR) technology but they are very different in terms of their applications. VR technology allows users to put on a headset and delve into a virtual world, whereas AR technology overlays information and digital content in the real world, in real time, using a display piece or eyeglasses. In essence, it takes the existing real-world environment and adds digital information to it to create the augmented environment.
Use of AR technology in the factory setting allows workers to easily locate their coworkers are on the factory floor, understand what machinery is being used and if it is operating within normal parameters. Furthermore, the technology can benefit the production line before the components hit the factory floor by streamlining the product development process, making it less time-consuming and more cost-effective.
Product development
Traditionally, taking a product from concept through development is a long and resource-intensive process that requires constant back-and-forth communication between several parties, leading to numerous revisions of the initial concept. This all takes place before the product even reaches mainstream production and manufacturing.
AR technology reduces the tedious nature of this process with its ability to streamline collaboration between the parties involved. Company directors would be able to see the product in development in real time through use of an AR device, giving them the opportunity to offer advice and insights without this bringing any delay. Applying AR technology in this way will boost both productivity and efficiency of product development in the manufacturing sector.
Airbus has used the MiRA mixed reality application to integrate virtual mockups into its production line, giving workers access to complete 3D models of the aircraft that is being produced. It is used primarily to check the integrity of the secondary structural brackets that hold hydraulics in place in the A380 fuselage. Airbus reported that by implementing AR technology through use of MiRA, the time required to inspect the brackets was reduced from three weeks to just three days.
Maintenance
This technology offers more than just the ability present digital content such as characters and images; it can also be used to overlay relevant information for the user on a screen. For example, looking at a furnace through a set of AR glasses allows workers to see information like its current running temperature.
Using AR in this way allows manufacturers to employ a streamlined predictive maintenance programme. By providing visualisations of potential points of failure within the system, workers can see at a glance if there is a problem and crucially, identify which parts are at fault if there is. Replacement parts can then be ordered from an industrial parts supplier without the need for costly unplanned downtime.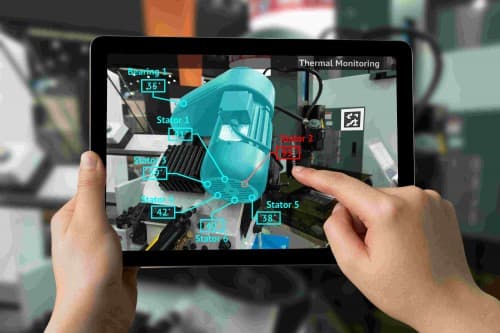 In a factory, even simple maintenance tasks, such as machine servicing, can often be unnecessarily time-consuming because of the amount of administrative work involved. AR technology offers a way for a maintenance crew to see exactly which machines and equipment need servicing at a glance by using an AR device to visualise the information – cutting out needless hours spent trying to find and sort the necessary information for the task.
Training workers in the factory
Digital twin technology can be combined with AR in manufacturing settings to create virtual clones of a physical asset, providing a dynamic, digital model to show technicians how to service and repair machines on the factory floor. This kind of immersive AR experience allows businesses to employ a more dynamic and cost-effective maintenance training programme.
In collaboration with Bosch using the Reflekt One or Bosch Cap software platform, Jaguar Land Rover has created an iPad application that is able to provide an X-ray vision investigation of the dashboard of the Range Rover Sport vehicle. This allows the company to train employees on repairing the vehicle without the need to remove, and later reinstall, the dashboard itself.
AR technology will undoubtedly revolutionise manufacturing as we know it, and manufacturers should give it serious consideration. However, it is important for businesses to remember that to reap the full benefits of AR technology, it will still require careful obsolescence management, selective equipment upgrades and a willingness to explore the diverse applications of the technology.
John Young is APAC Director at industrial parts supplier EU Automation.