AUGMENTED REALITY BRINGS AUSPACK TO YOU
31-01-2017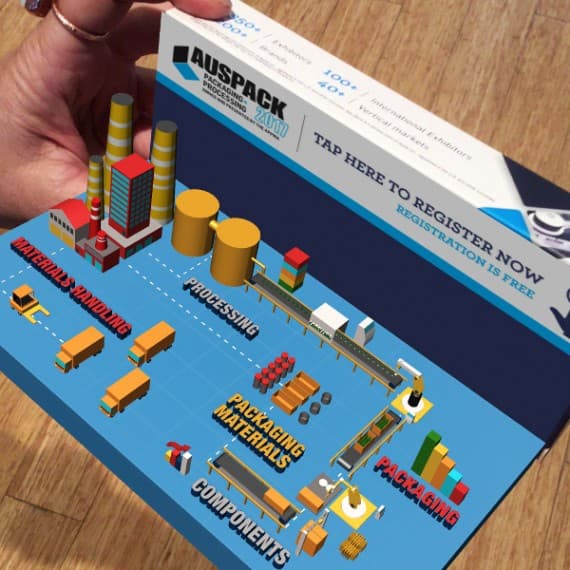 AUSPACK has joined forces with an augmented reality (AR) specialist, Omniverse Foster Packaging, to deliver a one-of-a-kind direct marketing experience and promote the packing and processing trade show.
"It's a physical-to-virtual promotion, taking potential visitors 'beyond the box' into an immersive experience of what AUSPACK has to offer," says Anne-Marie Mina, event executive at Exhibitions & Trade Fairs, the managing body for AUSPACK.

"We're excited to bring this exclusive experience to our audience, to demonstrate how AR can transform packaging into a dynamic marketing tool that is set to revolutionise the industry."

The physical promotional platform is a printed carton-board package, which will be mailed out as a flat pack.

"The AUSPACK audience can expect this in the mail any time in the next week, and can activate the experience on receipt of the box," Ms Mina says.

When received, users can fold the package into a box, and follow the step-by-step instructions printed on the carton. By downloading the AUSPACK AR app (available on GooglePlay or the App store) and hovering an iPhone or Android device over target areas on each side of the packaging, the user is transported into the AR experience.
The 'infotainment' experience incorporates animated artwork of a processing and packaging plant, combined with an AUSPACK customised video, developed to deliver a clear message:  AUSPACK is the place to go to experience leading-edge technology developments that are shaping the packaging and processing industry's future.

Omniverse Foster, the supplier of the AR technology behind this campaign, will be demonstrating its full capabilities in this dynamic field on Stand 27 at the show.

"This was an exciting project to be involved with, demonstrating both our AR expertise as well as our pack printing know-how," Omniverse Foster Packaging COO Darren Brits says.

"Augmented reality is the way of the future in on-pack communication. It is changing how consumers interact with and use products, and it lays a strong foundation for building brand loyalty."

AUSPACK's AR campaign is a forerunner of a range of AR experiences in store for visitors, with a number of exhibitors choosing this leading-edge technology to engage visitors on their stand.

Show organiser Exhibitions & Trade Fairs (ETF) has also pulled out all the stops to bring AR to the show floor in the form of interactive AR signage, a trade exhibition first in Australia.

AUSPACK 2017 will take place from 7th to 10th March at the Sydney Showground, Sydney Olympic Park. For more information, visit AUSPACK's website at www.auspack.com.au