AUDIT CONFIRMS PRINT ON THE RISE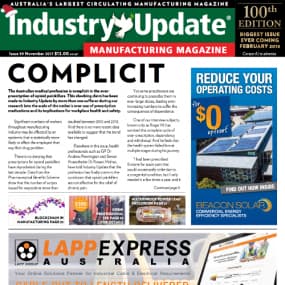 It's official: Industry Update is on the rise. The November 2017 issue of the magazine was distributed to 19,030 subscribers – a figure confirmed by an independent auditors' report to the Audited Media Association of Australia (AMAA).
The figure, which corresponds to a circulation in excess of 76,000 readers, is an increase of more than 2000 on the previous AMAA audit.
Industry Update Publisher Scott Filby was delighted by the news. "Reports of the death of print media seem to have been greatly exaggerated," he said. "Not only are we gaining readers, our advertising volumes are on the up and up, and we are looking forward to a record issue to start the new year."
The February/March 2018 issue of Industry Update will be the 100th for Australia's most comprehensive, response-driven manufacturing publication.
Says Filby: "It's amazing the number of former advertisers who are coming back to the printed magazine. Our 100th issue is going to be massive, and it will be the beginning of a big year – both for Industry Update and for Australian manufacturing industry as a whole."
The new audited distribution figure of 19,030 caps off a successful 2017 for Industry Update. The year also saw the Industry Update website become mobile responsive, leading to large increases in web traffic.
It also saw the launch of Industry Update Video – a unique concept for trade media featuring iconic Australian newsreader Tim Webster delivering essential information in a concise, viewer friendly format.
"We're really looking forward to 2018," says Scott Filby. "With growth in circulation and readership of the magazine, and a growing online and video presence, we are ideally placed to help Australian manufacturing industry continue its own recovery in the years ahead."