Arctic researcher takes a stand to reduce environmental impact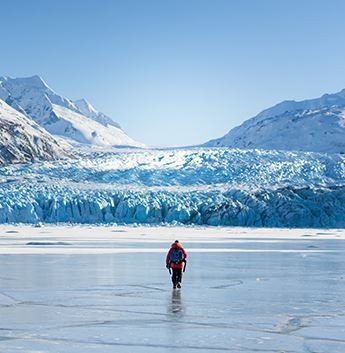 The Arctic is warming twice as fast as the rest of the Earth. As its permafrost ice melts, powerful methane greenhouse gases are released into the atmosphere, which speeds up global warming in an increasingly destructive cycle.
Professor Katey Walter Anthony is an Arctic researcher and National Geographic Explorer, and her work has helped to reveal that Arctic lakes are emitting five times more methane than previously thought. To make copies of maps and data from her field research, Katey uses Epson's innovative inkjet printers. Their Heat-Free Technology saves as much as 94%* of energy used in comparison to traditional laser printers. They use less power as they don't require heat to warm up, which means that as well as saving energy consumption, they cost less to run too.
"The Arctic is literally melting before our eyes, and what happens in the Arctic does not stay in the Arctic. It affects the entire planet," Professor Anthony said.
While this paints a grim picture, Anthony emphasises that there are ways that businesses can minimise their impact on the environment. "Heat destroys permafrost, and when we choose to use heat free technology, we lower our energy consumption which helps to reduce greenhouse gas emissions and slows permafrost thaw," she said.
The environmental burden from manufacturing and recycling spare parts is also reduced, as Heat-Free Technology uses fewer consumables and parts that need replacing.
"Our choices really do matter in work and in life. And when people make smart decisions about what technology they use, that will also make a positive difference for our environment," Professor Anthony said.