ARCHITECTURAL STEELWORK WINS TOP GALVANISING AWARD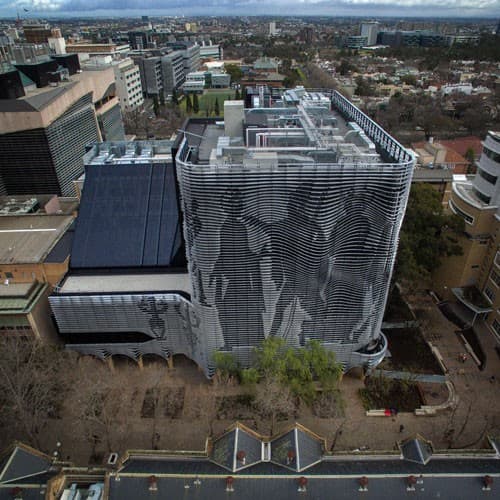 The $66 million Arts West Redevelopment Project at the University of Melbourne [Photo: John Gollings]
Valmont Coatings Australia has teamed up with ARM Architecture and Architectus to take out the Global Galvanizing Award from the European General Galvanizers Association (EGGA) for the University of Melbourne's Arts West Building.
According to Valmont Coatings MD Aaron King: "With 36 projects submitted from 13 different countries, we are thrilled the project has taken out this prestigious international award."
The $66 million Arts West Redevelopment Project was one of the University of Melbourne's most significant infrastructure projects in recent years.
The project included the renovation of the university's Faculty of Arts building on Macleod Road. The new building provides the University's Arts Precinct with a dedicated, high-quality teaching and learning environment.
One of the most distinctive visual features of the new Faculty of Arts building is its louvered facade, which involved ground-breaking use of steel. The building effectively has two skins: a glass wall and a structure of parallel horizontal steel fins or louvres, resembling deep exterior Venetian blinds.
The project team opted to galvanise the louvres to protect the steel from corrosion and add visual appeal.
"The fins on the facade serve two main purposes, to provide sun shading to the tall glass curtain wall behind and to house images of objects from the University's cultural collections," says Aaron King.
Valmont Coatings coated 480 individual steel sections in zinc prior to their delivery to the University of Melbourne construction site. Valmont Coatings' plant in suburban Campbellfield, north of the Melbourne CBD, completed each batch of the galvanised steel louvres within an average turnaround of two to three working days in the plant.