ARBS 2016 SEMINARS OPEN FOR REGISTRATION
30-03-2016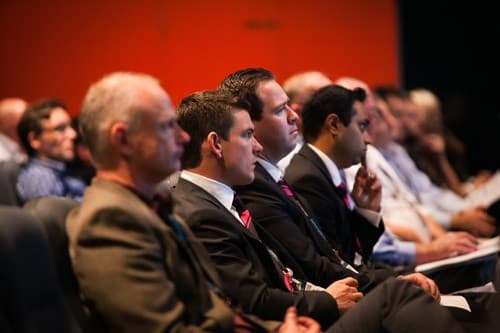 ARBS 2016, Australia's only international air conditioning, refrigeration and building services trade exhibition, has announced a bumper line-up of informative and leading-edge seminars.
The widely anticipated seminar program will see a range of high profile and respected individuals discuss the topics of importance to the industry.
One seminar that is sure to be of interest to attendees is the panel discussion on the WELL Building Standard.
According to industry pundits, the next wave sweeping the property sector is wellness – and it's about to crash on Australia's shores.
The seminar, Is Wellness the Next Green, will provide a nuts-and-bolts explanation of the WELL Building Standard and its focus areas.
The seminar will explore opportunities and obstacles to its take-up in Australia, and why healthy buildings are becoming the "next big thing."
Presenters include Romilly Madew, Chief Executive Officer Green Building Council of Australia, Tony Armstrong, International WELL Building Institute (IWBI) and Mark McKenna, NDY Group Leader, Sustainability - Norman Disney & Young, and moderated by Tony Arnel, Executive Director & Global Director Sustainability, Norman Disney & Young & President, Energy Efficiency Council.
You can join experts from Deloitte Touche Tohmatsu, Building IQ, Dexus Property Group, A.G. Coombs and Norman, Disney & Young to discuss the impact of big data on our industry.
Our work, personal lives and behaviour have been dramatically influenced by modern technology. From the digital dexterity of mobile connectivity, to big data and analytics predicting the future and optimising performance. But what does this mean to the AEC industry?
In this session a panel of experts will outline the technology that's improving performance for tenants, how building owners are responding to the increasing demands for embedded smarts within intelligent buildings, and a casting glance to the next wave of technology to hit our industry.
The seminar on the Australian Leadership in Geothermal Technology for Residential Projects by Dr Martin Larisch of the University of Queensland will be sure to draw a crowd as it discusses the installation of one of the largest geothermal installations in the world, a 950 house estate in Western Sydney.
Forming part of this project has been the development of an Australian designed and manufactured geothermal system. All houses will be connected to a Ground Source Heat Pump (GSHP) which will reduce household heating and cooling related energy costs by approximately 60 per cent.
The system will achieve a 42 per cent of the communities' peak energy demand and reduce greenhouse gas emissions by 13.5 per cent compared to conventional air conditioning units. The system in Fairwater will deliver 10,000 kW of thermal energy which makes Fairwater the largest generator of geothermal energy in Australia.
And a presentation by Warrick Stannus of AG Coombs on BIM to Prefabrication – Designing to get the Prefab Benefits is also a must see.
Substantial quality, safety, system performance and construction program benefits that the offsite manufacture of HVAC system components offers are beginning to be realised. However even more significant HVAC system prefab benefits are limited because we do not design buildings and building services systems with offsite manufacturing of systems in mind. This presentation will present the opportunities and methodologies for designing for offsite manufacturing of HVAC and other building services systems.
Not to be missed is the information-packed seminar presented by Patrick McInerney, Director, Ozone and Synthetic Greenhouse Gas Policy - Department of the Environment, on the HFC Phase-Down in Australia. With a proposed 85 per cent phase down of HFCs this seminar will provide an update of the progress towards a global HFC phase down agreement through the Montreal Protocol and discuss the independent action Australia can take ahead of a global agreement through the review of the Ozone Protection and Synthetic Greenhouse Gas legislation.
ARBS 2016 will be held at the Melbourne Convention & Exhibition from May 17-19.
If you are involved in the heating, ventilation, air conditioning, refrigeration and building services industry then you cannot miss this major industry event.
To register visit: www.arbs.com.au.