Applied Machinery adds some Italian style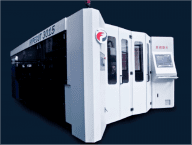 Applied Machinery, one of Australia's largest dealers of new and used machinery for the sheetmetal, engineering and plastics industries, has formed a new partnership with Penta-Chutian, a leading exporter of laser cutting machines in the Asia-Pacific region. 
Applied Machinery is now the authorised agent in Australia for Penta-Chutian range.
This includes traditional CO2 lasers, and the latest series of Fibre lasers.
Penta-Chutian laser machines are Italian designed, and manufactured to the highest standards.
Penta-Chutian exports these high quality machines throughout the world, including Germany, Italy, Belgium and Canada.
Penta-Chutian Hypecut 3015 laser cutting machines are available with 2200W, 3000W, 3500W, 4000W, 5000W or 6000W CO2 laser sources.
The machine is gantry type using rack and pinion drives (both sides) to drive an aluminium gantry for low inertia and promoting high acceleration.
Penta-Chutian machines incorporate the latest in laser design technology to create a stable, accurate and efficient laser cutting machine with a surprisingly low price.
Why Hypecut 3015?
High performance Yaksawa motors fixed to a gantry and cross slide structure
Superior edge quality plus high cutting speed
A fast flow laser source with power up to a huge 6000W.
Advanced European dual processor CNC system for axial movement
Direct laser control with PWM (pulse width modulation)
5.0″ and 7.5″ focal length high pressure lenses with digital focus adjustment
Automatic gas assist system
Advanced cutting head anti-collision device
Change table system with two 3050 x 1550mm working pallets
Windows™ based control software with materials parameters database
Fully interlocked safety enclosure for cutting table
Advanced metal cutting post processor software (Lantek, Alma, AutoCAD)
Based on Italian technology with over 80 per cent parts imported to the production facility
Hypecut series lasers come in 3000 x 1500mm, 4000 x 2000mm and 6000 x 2000mm configurations and they come standard with pallet change system.
As Penta-Chutian lasers incorporate the latest in laser technology, you are assured of high speed, accurate cutting at an extremely low cost.
Penta-Chutian Fibre Plus Laser Cutting Machines are available in 1000W, 2000W & 3000W capacities utilising IPG fibre laser technology. Fibre lasers offer fast and efficient laser cutting
Advantages of a Fibre laser include:
High cutting speeds
Low power consumption
Low maintenance costs
No consumable optics
No laser gas
Fibre lasers reduce your operating costs dramatically, whilst at the same time increasing your productivity. Add to this the environmental benefits of a smaller carbon footprint associated with a greatly reduced power consumption and reduction of consumables used when compared to CO2 laser.
Your company could also be eligible for a government rebate on energy saving technology.
Contact Applied Machinery for an information package.
Applied Machinery
Ph: 03 9706 8066