Published 17-02-2022
| Article appears in February 2022 Issue
Applied adds expanded Yawei range and new Fanuci welder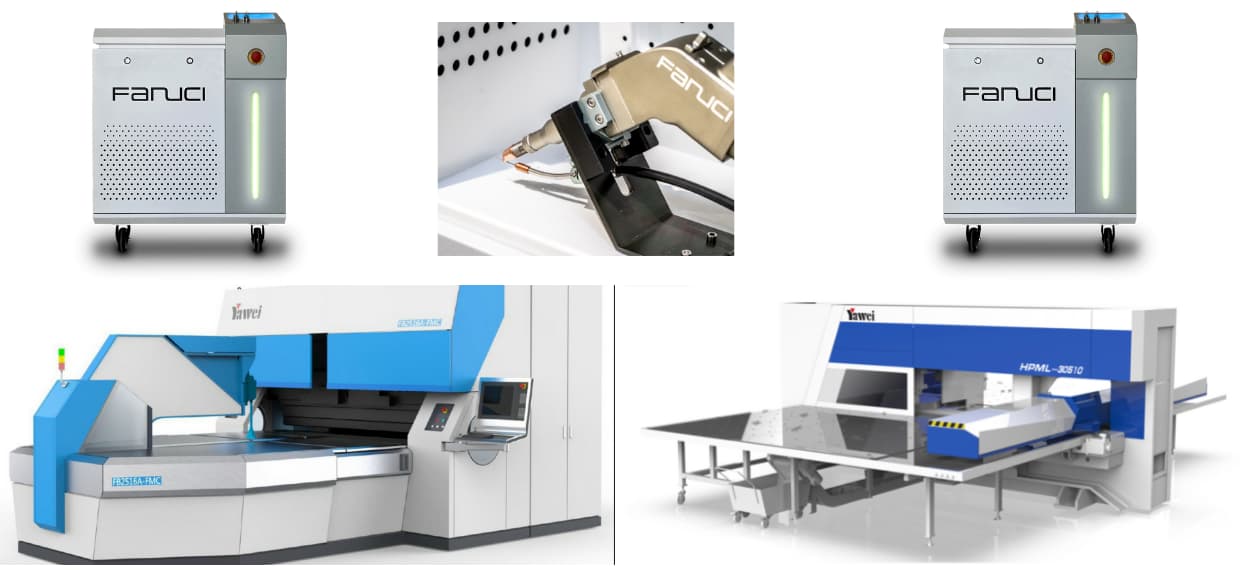 For over fifteen years, Applied Machinery has been supplying Yawei precision sheetmetal machinery to local manufacturers and job shops, maximising their productivity, boosting quality and broadening their capabilities. 
"Increased sales growth and demand across Australia has resulted in us steadily expanding the Yawei range which today includes CNC fiber lasers, tube lasers, pressbrakes, turret punch presses, guillotines and smart-factory automation solutions," Applied's sales and marketing manager, Daniel Fisher said. "The value for money and performance aspect is why so many companies have opted for Yawei. The competitive price of Yawei machines has enabled many local manufacturers to bring their fabrication work back in-house.
"It has also allowed job shops to expand their range of services and capabilities enabling them to secure new business opportunities,"  Fisher added.
Two new models also add to the impressive line-up: a laser punch combination and a panel folder.
The new HPML Laser Punch Combination combines the forming capabilities of a turret punch press with the flexibility of a fiber laser cutter - all in the one machine. The machine features class-leading components which are a hallmark of all Yawei machines; these include a Siemens 840D controller, IPG laser source and Precitec auto-focus cutting head. 
"Forget tedious slow punching – companies can now boost their productivity with this versatile 2 in 1 machine. For fabricators that want to take their manufacturing to the next level, the new laser punch combination will allow them to do just that,"  Fisher explained.
The other new Yawei model is the innovative new FB Series CNC Panel Folder which offers fast speed, high efficiency panel folding with automation options available to maximise productivity. 
"These two new models will further cement Yawei's reputation for providing Australian manufacturers with high quality precision sheetmetal machinery designed to maximise their productivity, boost quality and broaden their capabilities." 
In addition to the two new Yaweis, the Fanuci handheld fiber laser welder allows for easier, smoother and quicker welding. Handheld laser welding machines are increasing in popularity for the many benefits they offer compared to conventional welding. 
The Fanuci fiber laser welder provides high speed welding coupled with a far superior, smoother weld line. It features low heat input, small deformation, large penetration depth and good repeatability. The unit offers low energy consumption and is virtually maintenance free.
 Consistent weld
Fanuci's wobble welding technology ensures that operators can achieve a consistent and aesthetically pleasing weld. The quality of the weld presentation can eliminate the need to clean-up the weld with a secondary process, which in turns saves time and money.
Fanuci fiber laser welders are all manufactured to CE/TUV standards. 1000W, 1500W and 2000W models are available. 
"Given its capabilities, build quality and unique features, we expect to find a ready-made market for the Fanuci fiber laser welder in Australia. Companies can now take their welding to the next level with a far superior weld, coupled with increased productivity and reduced operating costs," Fisher added.
Whilst these new products add to the impressive rage of machines that Applied distribute it is the expert advice, service back-up and support provided by Applied Machinery that has won them many new customers over the last few years.
"Our number one priority is ensuring that our customers across the country get the machinery they need, with the support they expect. We view ongoing service, training and support as critical to ensuring our customers can extract maximum return from their machinery investment," he added. "Unlike some suppliers who are here one day and gone the next, we're here for the long term. With nearly 30 years' experience and thousands of satisfied customers across the country we're a true machinery partner." 
The growing list of satisfied customers is evidenced by the portfolio of well-known engineering companies across Australia that have chosen to partner with Applied. These include JC Butko Engineering, Eilbeck Cranes, Wildcat Industries and Alliance Metal Solutions.
"One of the outcomes of the COVID pandemic is recognition of the importance of nurturing and assisting local manufacturing. We're proud to be able to play our role in supporting Australian manufacturers with high quality, value for money products that will boost their productivity and provide them with a competitive advantage in the marketplace," Fisher concluded.