Materials Handling & Equipment
Published 02-12-2021
| Article appears in November 2021 Issue
Apollo VTS, Your Expert On Vertical Conveying Solutions!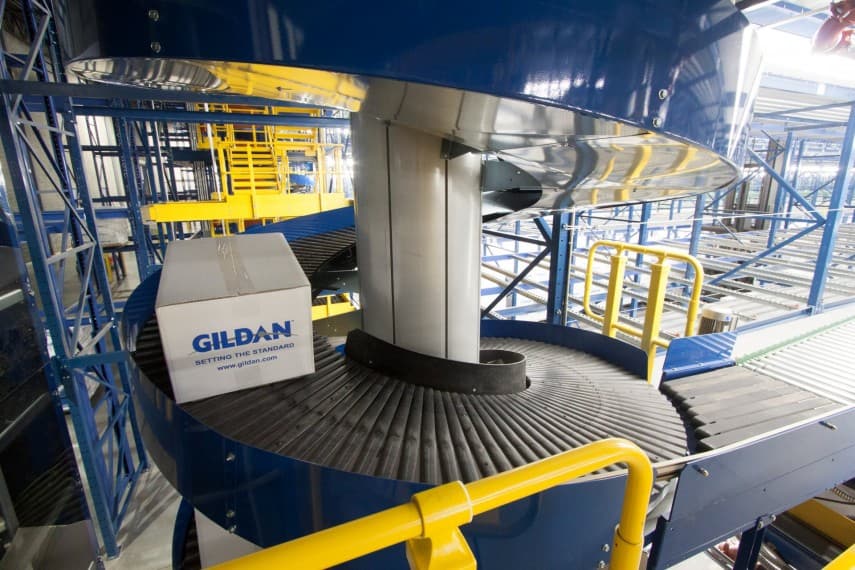 By Apollo Group 
With the needs and dreams of our customers at heart, the Apollo Group from the Netherlands is an example of growth by transformation. We have nearly 175 years of proud family tradition to back this up! Together with our customers we design, manufacture, and install the next generation of conveying solutions.
The VTS division in the Apollo Group is the world's leading supplier of vertical conveying systems. We pursue the key elements of offering high-quality machines, developing the machine in cooperation with our customers, thinking in solutions, providing 24/7 customer service, and maintaining flexibility in design and service.
Being a worldwide player, we believe we need to be closer to our customers around the world. For the Asia-Pacific region, we have localized sales offices across the region and a production facility in Thailand to design, manufacture, dispatch, install, and service vertical conveying solutions from within the region. 
Core to our vertical conveying systems are our renowned Spiral Conveyors. Every Spiral Conveyor is designed according to our proven reliable technology, while offering many features, benefits, and flexibility. This technology makes the Apollo Spiral Conveyors faster and more reliable than any other vertical transport solutions such as elevators or lifts, while saving the most of valuable floor space than incline conveyors within production and logistics facilities.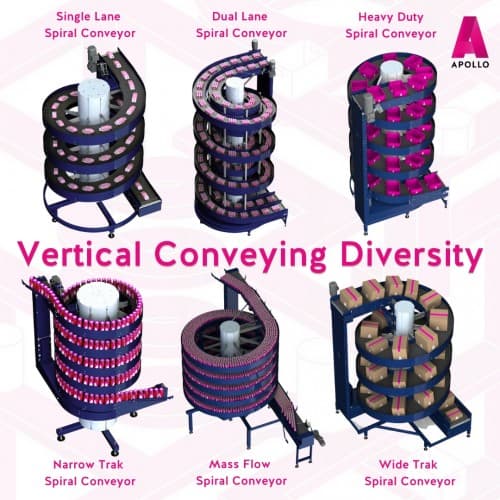 Spiral
Apollo Spiral Conveyors are suitable for several types of industries including food, beverage, warehousing, e-commerce, industrial manufacturing, pharmaceutical, automotive, and more. 
Spiral types can range from the standard Single Lane to Dual Lane, where two seprately driven tracks run next to each other and have the possibility to run synchronised or with different speeds and/or in opposite directions, meaning twice as much throughput! 
The Heavy Duty version can handle double the weight of regular Spiral Conveyors, resulting in a load capacity of 100 kg with only one motor for substantial savings in energy, controls, and system integration.  
The Wide Trak version can handle a variety of load sizes, big and small, making it ideal for warehousing and order picking operations. It is unique for its ability to transport product widths up to 900 mm with a single conveying belt.
The smaller base structure and smallest belt width of 150 mm makes the Narrow Trak model a perfect solution to transport small, single package items for the personal care, food, and beverage industries. 
The Mass Flow Spiral Conveyors are the first choice for vertical transport of bottles, cans, jars and various similar products. The Mass Flow is designed to handle large quantities of items in a gentle way which could easily go up to 120,000 units per hour. In comparison with conventional vertical conveying systems, the Apollo Mass Flow Spiral Conveyor has a very small footprint which saves valuable floorspace in your beverage production facility.
Multi-entry
The Spiral Conveyors can be delivered with extra shoot-in and shoot-out conveyors for a multi-level product entry and exit across several floor levels.
Conveying belt design
The Spiral Conveyor is designed to run 24/7 transferring a constant stream of products. On average a belt component will travel in terms of distance an equivalent of eight times around the world over its lifetime moving wet or abrasive products, which puts high requirements on the durability requirement of the belt design! 
Our unique bearing design ensures low friction and discloses any shear of materials. All of this ensures a smooth, stable, and silent continuous flow of products with virtually no wear to the Spiral Conveyor, chain, or belt. Therefore, our conveying technology requires no lubrication to be in contact with the belt, resulting in a clean and contamination-free environment.
Noise
Due to the bearing rolling friction transport system, Spiral Conveyors have an extremely low noise level during operation of 52-72 dBA (depending on the speed and the load). This guarantees a safer and more pleasant working environment for workers where noise can be a concern, such as warehouses and distribution centers.
On-site
To overcome various restrictions and limitations in installation locations, the Spiral Conveyors can be brought on-site in smaller pieces and then re-assembled in short time. This flexibility is perfect for tight spaces!
Service
We believe it isn't just the quality of our machines that make our customers come back again, but also our after sales service. Though the products are designed to deliver high performance during a lifetime, no machine can operate without maintenance. We therefore offer both on-site assignment and remote online remote support through augmented reality for fast diagnostics and problem solving.