Apollo gives Pilbara a lift
31-08-2010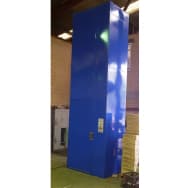 When one of the world's largest iron ore miners was faced with the challenge of moving heavy-duty goods and equipment between the ground and mezzanine levels of its Pilbara facility, they looked no further than the Levante Loadboss by Apollo Lifts.
Designed to operate in the harshest industrial environments, the fully modular mezzanine hoist has significantly enhanced the facility's daily operations and has already earned management's tick of approval – winning an internal innovation award for onsite safety and risk reduction.
The Levante Loadboss has been a resounding success.
Its performance is unaffected by the sweltering heat and dusty conditions of Australia's arid northwest.
Fully clad and tested prior to on-site installation, the hoist became operational within an unprecedented two days – meaning a minimum of downtime.
Levante Loadboss mezzanine hoists can be tailored to suit any height range and are designed to carry weights between 100kg to 5000kg or more.
Equipped with class leading safety features, including Hose Blow Protection, safety door interlocks, and the security of fully programmable microprocessor controls, Levante hoists fully conform to all state regulations. 
Apollo Lifts
Ph: 1800 007 662