Anti-vibration grommets dampen noise too
31-08-2010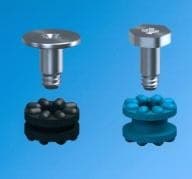 Keystone Electronics Corp has launched a new series of anti-vibration grommets specifically engineered for electrical insulation, mechanical damping and noise suppression in office or lab equipment. 
Now available from NPA Pty Ltd, the grommets are engineered to isolate sensitive instrumentation from unpredictable vibration and shock.
They feature "fingers" which flex as needed to dampen unwanted noise or vibration. Incorporated are special shoulder screws to provide correct spacing. This allows screws to be fully tightened down. 
Designed to accommodate panels from .031" to .125" thick, these insulating anti-vibration grommets are manufactured from durable EPDM rubber in black or blue color. 
The mating, custom fitted shoulder screws are made of nickel plated steel in 6-32 and M3 threads. 
Supplied as unassembled sets (Insulator and Screw), grommet availability is from stock through Keystone's global distribution network.
Keystone Electronics Corp is a major manufacturer of interconnect components and hardware and provides a full complement of stamping, machining and assembling services. An in-house application engineering group is on hand to aid in product modifications or customers special designs. 
Keystone is ISO-9001:2008 certified and RoHS, REACH compliant with US headquarters and offices in Canada, Europe, Australia and Asia. 
NPA Pty Ltd
Ph: 08 8268 2733