Another top award for Dematic
31-08-2010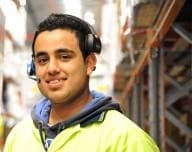 Dematic, a leading supplier of logistics automation, logistics IT, materials handling and storage systems, was recently awarded the Vocollect APAC Partner of the Year Award at the Vocollect Annual Asia Pacific Conference in Chengdu, China. 
Dematic received the Vocollect Partner of the Year Award for significant business growth and innovation and the smooth transition to working with Intermec following Intermec's acquisition of Vocollect. 
As a result, Dematic is now a one of ANZ's leading Intermec systems integrators and an Intermec Platinum Partner.
The prestigious award was presented to Dematic's General Manager for Real Time Logistics, Nathan Taylor, by Vance Lau, Vocollect's Managing Director and Vice President Asia Pacific. 
Dematic also collected three other awards on the night: Most Significant Win in SEA; Outstanding Tech Support SEA; and Outstanding Tech Support ANZ.
Dematic's Real Time Logistics group is Australasia's leading integrator of mobile computing and IT solutions for supply chain applications. 
Dematic Pty Limited
Ph: 02 9486 5555