Another strong year for Lencrow and Ausa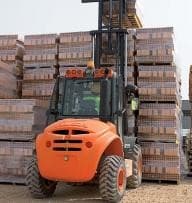 Popular choice … Ausa all terrain forklifts
Lencrow is still growing its share of Ausa sales in Australia with orders increasing 40 per cent in 2012. 
The majority of the sales have been with the masted all terrain forklifts. Ausa has focused on improvements in this range with the option of Full Grip transmission in many models. 
This system allows the transmission to operate in 2WD most of the time and selecting 4WD when required. Offering better manoeuvrability and reducing rear tyre wear by 50 per cent and still offering the same performance in off road conditions.
Ausa also this year released the latest in their Taurulift Range the T307 a telescopic handler with a capacity of 3000kg and lift heights to 7000mm. This range now offers six different models with capacities from 1300kg through to 3000kg. 
The complete range is powered by the Kubota diesels for smooth and reliable operation.
Lencrow's Managing director Ross Grassick says: "Lencrow has been impressed by the attention to detail that Ausa puts into the units they manufacture. We have added a number of these units to our own hire fleet this year due to the reliability and operator acceptance. I can only see this number increasing in 2013 with the new enquiries over the last quarter."
All the units imported by Lencrow conform to Australian Standards and their standard build includes full road lighting and safety features required. This is coupled with a hydrostatic transmission that offers constant torque at any speed, this is extremely important in slippery conditions. 
The units in the masted range are offered with side shift to improve the efficiency and better driver control.
"As with all products that Lencrow sell they are backed up with parts and trained technicians this keeps Ausa units in optimum operational condition," says Mr Grassick. "Lencrow's Ausa parts distribution centre located in Melbourne has an extensive range of the parts that you may require. This is backed up with regional parts distribution in both Sydney and Brisbane. We also have electronic access to the Ausa web site offering 24 hour parts and technical assistance."
Lencrow Group
Ph: 1300 536 276