ANOTHER MISSION ACCOMPLISHED FOR SIPPEL GROUP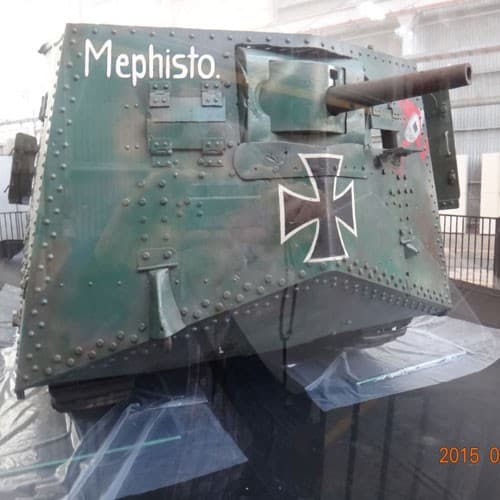 Last August, to mark the 100th anniversary of the Gallipoli landings, the Australian War Museum in Canberra was commissioned to display a captured Mephisto German WW1 Army Tank.
The eight metre long tank weighs a hefty 35 tonnes.
The big dilemma facing the museum was how to safely move a tank of this size from its location at the Queensland Museum in North Ipswich.
But when the going gets tough, that's when it's time to call the Sippel Group, the experts in heavy moving.  
The Sippel Group had previously successfully moved a large 28-tonne British WW1 Army Tank from the Museum for a special demonstration.
And as noted in our previous edition, they also moved a T34 WW2 Russian Army Tank of 32 tonnes at least on three previous occasions for the Museum.
But the 35 tonne German Mephisto presented a whole new challenge. 
Sippel Group principal, Geoff Sippel travelled to North Ipswich from Sydney earlier this year to measure up the giant Mephisto army tank. 
"We were initially asked by the Australian War Museum to supply the stillage or cradle upon which the tank was to be mounted," said Mr Sippel.
But as it turned out the tank could not be loaded onto the Stillage/Cradle in Ipswich, as this would have made it too high to travel under the Museum's walkway.
So two cranes were used – one large and one smaller – to combine to lift the tank off a low-loader.
It was then moved close enough to the dockway to allow the exclusive Sippel AIRSKATE System to be used to float it up over the door sill and into the Museum.
From there it was "floated" exactly into the final display position.
Miraculously, the huge tank managed to complete the delicate manoevering with just 1.5mm or so to spare.
"This meant we were able to maintain our 100% success rate over the past almost 40 years of involvement in all kinds of moves," said Mr Sippel proudly. 
The tank, which has a fascinating history, was one of the star attractions on display in Anzac Hall at the War Museum.
It was originally "souvenired" by Queensland soldiers in July 1918 near the French town of Villiers Bretonneau.
Soldiers from the 26th battalion snatched the huge machine in the middle of the night from no man's land, where it had been for three months.
Mephisto is the last remaining A7V Sturmpanzerwagon tank in the world.
The tank will soon return to the Queensland Museum and will go on permanent display at the new Queensland Remembers Gallery, due to open in 2018.
Sippel Group
Ph: 02 9567 4889