Another major award for Dematic Real Time Logistics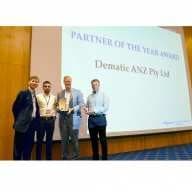 Dematic, a leading supplier of logistics automation, logistics IT, and materials handling and storage systems, was recently awarded the Vocollect Partner of the Year 2012.
The award, presented at Vocollect's 2013 APAC Partner Conference in Bangkok, Thailand, 
recognises Vocollect's top performing partner in the region for driving market growth and integrating new and emerging technology into customer Voice solutions. 
"We are proud to honor and recognise this year's partner award recipients for their commitment to supporting Vocollect and our mutual end customers through outstanding achievements in technology innovations," said Vance Lau, Vice President and Managing Director, Vocollect Asia Pacific. "In particular I commend Dematic which bagged Partner of the Year 2012 and Outstanding Individual Performance 2012 for Seth Van Dijk – for its exemplary efforts in extending the reach of Vocollect in Australia and New Zealand, as well as in consistently meeting customer demands in these countries."
In accepting the Partner of the Year Award, Nishan Wijemanne, Dematic's Sales Manager for Real Time Logistics, recognised the hard work of the Dematic team and described how Dematic has been partnering with Vocollect since introducing this innovation in warehouse technology to the APAC supply chain industry over 15 years ago. 
Dematic has won the Vocollect Partner of the Year Award every year since its inception.
"This is testament to Dematic's continuing innovation in Voice solutions throughout the Asia Pacific region, its track record and experience with Voice, and Dematic's unrivalled, comprehensive service and support infrastructure. This award reinforces Dematic as the clear partner of choice for Voice solutions in Asia Pacific," said Nishan.
Dematic's Real Time Logistics group is Australasia's leading integrator of mobile computing and IT solutions for supply chain applications. 
Services include:
Wireless Network Design, Installation & Support
Vocollect Voice systems
Mobility Solutions
RFID, Vision & POD systems 
Systems Integration 
24/7 Service & Support
Dematic Pty Limited
Ph: 02 9486 5555