Another LED star from enLighten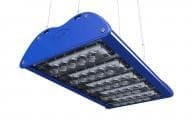 Optimum performance … the Cetus range from enlighten
Sydney based lighting innovation company enLighten Australia will release a new high and low bay luminaire range of high performing lights before the end of this year.
Named after a northern sky constellation, the Cetus offers optimum energy performance for a broad range of applications including warehousing, large retail and manufacturing sites. Cetus is also suitable for use in outdoor applications.
enLighten's goal is to maximise energy efficiency by providing light where and when it is needed. The Cetus uses a sophisticated modular design and unique integrated lens system that can provide an energy-efficient lighting solution for most applications. 
enLighten's CEO, David Whitfield says that the opportunities for energy reduction in the commercial and industrial sectors via LED lighting is proven and significant. 
"The Cetus range uses unique LED driver technology designed by enlighten with generous integrated heat management to maximise both performance and life span," said Mr Whitfield. 
Energy and performance results for the Cetus, which is available in two to ten modules, are impressive. 
The Cetus delivers up to 70 per cent energy reduction compared with traditional 400W high bay lighting. A two module Cetus consumes 86W and delivers ~8,425 lumens (independently verified by Philips Lumileds), offering superior performance to existing replacement options. In environments where reliability and or access are critical a ~40,000+ hour life span significantly reduces maintenance and replacement costs. 
Following a recent international speaking tour at leading light shows in Europe and Asia, Mr Whitfield says that intelligent LED lighting is the way of the future.
Optional daylight harvesting is available for the Cetus, as well as the capacity to self-test its operational functionality through the enLighten's unique ePM technology. 
Using enLighten's patented RFOS technology, each Cetus can adjust its light output to match the occupancy status of the lit areas.  
RFOS technology will also interface with a photo-electric cell to continuously balance artificial light output with natural daylight to deliver the desired lux level in the workplace.
The enLighten designed Cetus has already won approval from international LED manufacturer Phillips Lumileds, who are featuring Cetus at international lighting fairs to showcase their new LUXEON M LED series.
"We assessed a large number of luminaires from our global product supplier network and selected the Cetus due to its innovative design and capacity to deliver the full range of LUXEON M benefits," said Freddy Goh, Phillips Lumileds Lighting Technical Solutions Manager Asia Pacific. 
In addition to electricity cost savings, added financial incentives are available for Cetus retrofit customers from state based energy efficiency trading schemes through energy savings certificates for registered lighting upgrades. The certificates are then traded with electricity retailers at market price (currently around $23 in NSW) delivering a cash rebate of up to 30 per cent of the total project cost.
The Cetus is the latest in the Constellation LED product range designed and manufactured by enLighten Australia. 
enLighten's award winning Chamaeleon multi-function light is a specialty LED luminaire for low occupancy spaces such as fire stairs, car parks and back of house areas. Following its launch in 2011, the Chamaeleon is fast becoming the new standard in low occupancy lighting by delivering up to 93 per cent energy savings compared to traditional fluorescent T8 lighting. 
enLighten was recently awarded the 2012 Cleantech Open Award by the Parliamentary Secretary for Innovation and Industry, Mark Dreyfus MP. Attracting over 100 entries, the national clean technologies competition aim is to find local cleantech companies with the greatest potential for commercial success in Australia and overseas. 
enLighten
Ph: 02 9437 1710