Another Kockums success story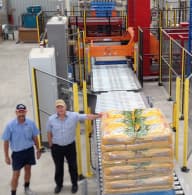 Feed manufacturing specialist AMBOS Stockfeeds recently installed an automatic animal feed packaging system as part of a major upgrade of its facilities at Young in southwest NSW.
The company had no hesitation in choosing Kockums Bulk Systems to help improve its product handling efficiency.
AMBOS manufactures and distributes a full range of bulk and bagged supplement and complete feeds for commercial and domestic livestock.
The family-owned and operated feed milling company prides itself on customer service.
Managing Director, Alan Threlfall, whose father founded the business in 1949, says the company pays strict attention to its clients' needs – especially when the job is urgent. 
Consequently, the business can run 24/7. AMBOS uses three of its own trucks to guarantee special deliveries.
The new Kockums equipment includes a Payper open-mouth bagger that picks bags from a conveyor and offers them to the filling spout.
When filled they move forward to the sewing head, then to the TMG automatic palletiser. From there they move forward as a pallet load to the Unitech automatic wrapper. Throughput is 700 to 900 sacks per hour.
Previously, the company used a labour intensive manual handling system.
The new system has been so successful, AMBOS is now considering expanding its operations into other markets.
For AMBOS, safety is also a major priority.
With higher levels of automation, all new equipment has been designed with safety in mind to minimise the risk of injury.
To maintain the company's strict safety standards, Mr Threlfall says AMBOS sought automated sack filling equipment from a company with a strong track record in meeting Australian Standards.
They also needed a company with experienced staff and good product knowledge as well as a switched-on installation and service team.
Kockums Bulk Systems Pty Ltd has an extensive range of sack filling, palletising and wrapping equipment. It also has the experience needed to assist clients with a system that best suits their needs.
AMBOS was confident Kockums could deliver and install a quality product and provide professional, ongoing support.