Published 03-10-2019
| Article appears in October 2019 Issue
ANIMAL FEED SPECIALIST FINDS THE RECIPE FOR SUCCESS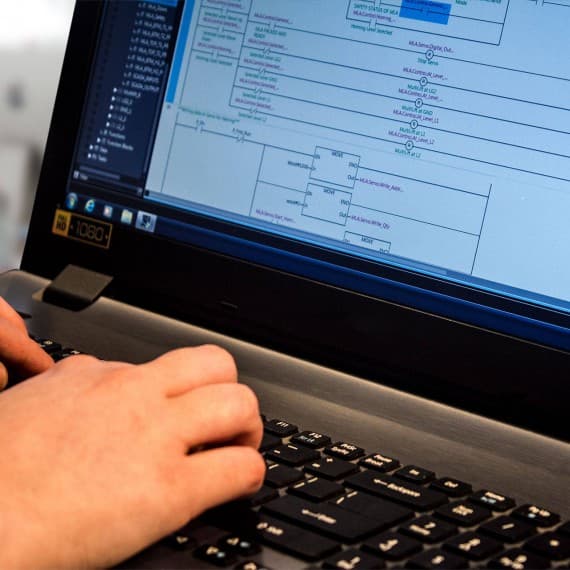 Rabar is a leading manufacturer and distributor of commodities and premixes for the animal feed industry. From its facilities in Southern Queensland and NSW, the company produces custom formulated vitamin and mineral premixes and "macro" mixes both in powder and pellet form.
Established in 1989, Rabar supplies its extensive range of nutritional supplements to farmers throughout Australia and some products to New Zealand and the Pacific Islands including PNG.
For nearly three decades, the company used paper spreadsheets to maintain its batching records and associated data. This out-dated system was time-consuming and costly; and, worse, prone to inaccuracies and human error.
So the company turned to industrial automation specialist Pac Technologies for advice. The brief was simple: to move from a paper-based records system to a real-time data capture and traceability solution.
Using state-of-the-art equipment from Omron, the Pac Technologies team created a new batching system for Rabar at its headquarters at Beaudesert, southwest of Brisbane.
Omron supplied all the quality control hardware, which was set up and programmed by Pac Technologies.
The hardware is based on the Omron NX102-9020 PLC, which provides fast and accurate control by synchronising all machine devices with the PLC and motion engines while delivering real-time traceability.
This is combined with Omron NA Series HMIs to enable faster, more efficient control and monitoring and V680s RFID hardware combining RFID antenna, amplifier and controller in one unit.
Safety is provided using the Omron NX-SL3300 modular safety controller optimised for high-speed, high-precision motion control, coupled with the NX I/O standard and safety protocol that enables flexible configuration by mixing the safety units with standard NX I/O.
The motive force is provided by Omron MX2 variable-speed drives on EtherCAT, an advanced micro drive frequency inverter developed to harmonise advanced motor and machine control.
The end result is a fully automated state-of-the-art system designed for maximum flexibility.
"We achieved everything on the customer's 'wish list' with a customised solution," says Omron Queensland and Northern Territory Manager, Paul Gibb.
"We mainly focused on the performance and data processing power of the NX102 in conjunction with NA HMIs. This hardware creates a massive amount of value through the data handling capabilities."
The open architecture of the system now gives Rabar the option of using the system integrator (Pac Technologies) for ongoing support as it is not a closed or proprietary system.
Kim Simonsen, CEO of Pac Technologies says the new batch and data management system (BDM) has streamlined the entire operation.
"The new system has been fully customised to fit Rabar's requirements," he says.
New software now controls the entire blending system from start to finish. It has eliminated manual ordering, record keeping and other paper trails.
"This BDM can be configured to work seamlessly with all pre-existing inventory software packages," says Simonsen.
Integrated scales now precisely weigh every ingredient, and RFID technology is used to track and log each individual step, and barcode recognition ensures only the correct products are used.
The system also has facilities for multiple operators to work simultaneously on each order.
After nearly 14 months of exhaustive planning and trialling, the new system is now fully operational.
Simonsen says traceability and accuracy in the blending process has improved significantly.
Also, there is no longer a need to conduct a monthly manual stocktake. The stocktakes are now scheduled on a quarterly basis – delivering a higher degree of accuracy.
Rabar owner/director Gerald Fong says he's more than happy with the new system.
"It has improved accuracy and reduced human error," he says.
Also, production has been boosted by nearly 25 per cent – from 2-3 tonnes an hour to as much as 4 tonnes an hour.
"The trials have exceeded our expectations," says Fong, adding: "It's a very good result. We are very happy with the outcome."
Rabar employs 12 production staff at its Beaudesert plant, and Fong admits: "Initially the team was hesitant to move from a manual system to full automation. But they have now embraced the change. It's definitely made their lives easier."
And rather than shed jobs with the automation, Rabar will probably need more staff to cope with the expected increase in productivity.
"Already, we have reached a stage where we have exceeded our capacity," says Fong.
"But now with the new system we are ready to take on new business when the market eventually recovers from the current drought."
Gerald Fong expects that Rabar receive a full return on its investment (ROI) within the next two years.
The next stage will be to introduce Omron's LD series mobile robots and TM series collaborative robots for picking and packing products on to pallets ready for dispatch. And Fong says the company is also looking to replicate the new batching system at its Moama facility near Echuca on the NSW/Victoria border in the New Year.
Omron
1300 766 766
www.omron.com.au