ANCA TOOLDRAFT LAUNCHED FOR 2D TOOL DRAWINGS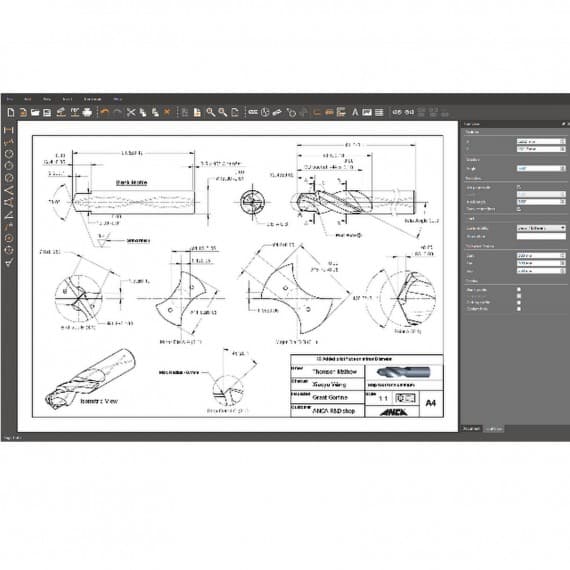 The first ToolDraft software package for creating 2D CAD cutting tool drawings has been launched.
Quick and easy 2D tool drawings will now be able to be created straight from CIM3D or ToolRoom software, ready for your own, or your customer's requirements.
An independent product to ToolRoom and CIM3D, ToolDraft now produces 2D drawings simply by clicking on the ToolDraft icon in CIM3D (V8.1 onwards). It removes the requirement to export the 3D tool image to an external and non-tool dedicated CAD package.
Once the tool is imported different tool views can be added to the page. Some of these views include side, endface, shank and isometric. First and third angle projection views can also be added with side and endface views linked. Other features include the ability to add core, cutting and blank profiles to the drawing.
Options include the addition of cross section and detail views. These views can be positioned anywhere on the page. All tool views can be scaled by page scale or individually. Leader lines, surface finish annotations and center marks can be added to tool views. 
You can also change the default text and line style properties, and save templates with company title block to suit your company requirements.
When you have positioned the tool views you require, a range of dimensions can be added. Snappable points appear on tool views for easy dimensioning and accuracy. Dimensions can have a prefix, suffix and can be overridden.
Unilateral, bilateral and named tolerances can also be added to the dimensions. A library of drafting symbols are available to add to drawings to add to their clarity.
When you have developed the tool drawing it can be printed, or exported to pdf or dxf. You are then able to document your tool grinding processes, ensure quality control conformance and provide accurate information to your operator and customer.
ANCA Pty Ltd
Ph: 03 9751 7300