ANCA LAUNCHES FIRST CYLINDRICAL DESIGN FOR TOOL GRINDERS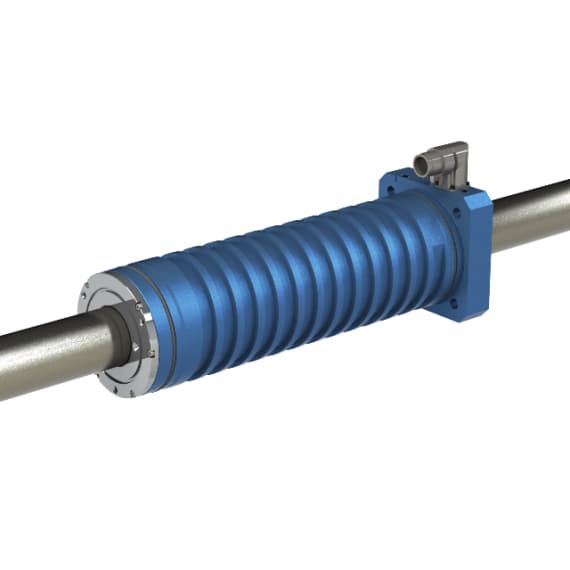 ANCA has resisted using linear motors – until now.
"The linear motors you see in machine tools these days are all the flat bed type. I've never been happy with that design for tool grinding," explains Pat McCluskey, co-founder of ANCA.
"It wasn't until Pat (Boland, ANCA's other co-founder) and I saw a cylindrical linear motor operating on a transfer machine that we saw a technology we felt we could adapt to suit our tool grinding machines.
"With the help of our control systems group at ANCA Motion our company designed a patented cylindrical LinX Linear Motor specifically for grinding applications that don't have the typical drawbacks of flat bed style linear motors.
"For a start, the magnetic flux in our new LinX Linear Motor is cylindrical, which has many benefits. The motor uses the entire symmetrical magnetic field, delivering more efficiency than the flat bed style linear motor, which is typically single sided.
"Secondly, because the flux in the flat bed linear motor is asymmetric, it creates tremendous downforces on the rails, making everything wear faster and further reducing efficiency."
At the very slow speeds used for high surface finish tool grinding, these large downforces cause any tiny oil drop contamination on the rails to produce cogging effects that show up as poor tool surface finish.
Particularly on curved surfaces like ball-nose cutter lands. The cylindrical design linear motors enables the elimination of cogging and improves surface finish on the tool when grinding.
On its latest tool grinders, like the FX Linear and MX Linear ranges, ANCA has replaced the ballscrew system with an electronic equivalent, which is a cylindrical linear motor. LinX Linear Motors have the same power consumption as a ballscrew system.
The ballscrew has been replaced with a stainless steel tube containing magnets and the ball nut has been replaced with linear motor stator. The addition of linear scales as standard further ensures that high accuracy levels are maintained.
The LinX Linear Motors have an IP67 rating and have been designed for a lifetime of operation in harsh grinding environments. The magnets and winding on the motors are fully enclosed and with no mechanical moving parts there is no loss of machine accuracy over time due to wear.
As the linear motors run a lot cooler a dedicated chiller unit is not needed for the motors.
The chiller unit from the machine's regular coolant system is used instead which reduces required floor space and power.
LinX Linear Motors provide a smoother axis motion resulting in high levels of machine precision and enabling superior tool accuracy and surface finish.
ANCA Pty Ltd (Australia office)
Ph: 03 9751 7300